Splendour In The Grass 2010, Day 1: Fri 30 July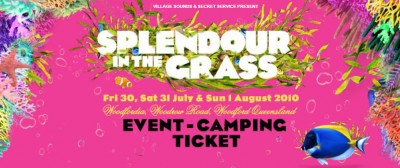 The tenth anniversary of Splendour- I had high hopes for this: a new venue and a MASSIVE lineup, and it didn't disappoint. Although not the best Splendour I've been to, it was still pretty damn fine. This was my tenth year.
It was quite a mission this year.  For the first 6, we were living in Brisbane, so getting to Byron Bay wasn't a stress.  In 2007 we moved to Sydney.  The distance was obviously far greater, but it was still do-able.
Last August, we moved to Melbourne, so the mission this year was quite an undertaking.  So the wife and I packed the car, drove 600km to Canberra to drop off the dog, and then flew to Brissie, picked up a hired campervan, and then hit the road for Woodford, the new home of Splendour (for this year anyway).
I took a bunch of photos, and for the first time, some relatively decent video.  I had no idea my crappy little Lumix camera would do so well with the video, otherwise I would have taken more.
The weather held out spectacularly well.  On the Wednesday night we were all sitting around at a mate's place in Brisbane as the rain bucketed down around us.  Was not happy. It certainly looked like we were going to have a re-enactment of 2003's Splendour In The Mud.
When we awoke on Thursday, the sun was shining and all was well.  Upon arrival at the site, there were certainly some mud and puddles (extremely fun to navigate in an oversized campervan), but all in all the site held up well, and the rain held off and sensational weather (sometimes a tad too hot) was enjoyed by all.
Here are some of my thoughts on the weekend…..
Although I had planned to make it in for Joy Formidable, it didn't happen. We heard bits and pieces wafting through the campground as out campsite was pretty close to both the GW McLennan tent and the Mix Up stage. The first act I saw was Mr Dan Sultan….
Dan Sultan
(Fri 30 July 1:30pm- G.W. McLennan Tent)
This was the first time I'd seen Dan Sultan play, and although I'm not a huge fan of his music, he is definitely a showman, and a great one at that. To be honest, the main reason we went was because most of the female contingent of our little posse think that Mr Sultan is a bit of alright.
He's not really my type, but it was a rockin' set.
School of Seven Bells
(Fri 30 July 2pm- Mix Up Tent)
Next up on the list was School of Seven Bells. I didn't know much (any) of their music at all before seeing them, but we were looking for something to do before Washington started so thought we'd suss them out.
WOW.
A very nice surprise was to be had here- reminded me heaps of My Bloody Valentine, which is never a bad thing.
The sound in the Mix Up tent was spectacular and these guys sounded super awesome.    It was great sitting at the back and having a good listen.
I also figured that seeing as we were at Splendour In The Grass, I'd take a photo of the grass, whcih, depending on your thoughts, could either be 'art' or 'bollocks'.
School of Seven Bells are definitely on my list of bands to suss out more.
Also, outside the Mix Up tent was a great spinning sculpture that we named "The Double Spines".  Very handy piece of work as it could be seen from quite a distance and became a handy meeting point when trying to meet up with friends in between bands.
Washington
(Fri 30 July 2:45pm- G.W. McLennan Tent)
Next up was Washington. We only had a small window of time as Yeasayer would be kicking off in the Amphitheatre shortly. We hung around for a couple of songs, and it was pretty good. Can't really say much beyond that as I'm not a massive fan, but it certainly wasn't crap….
There were 5 bands of the whole Splendour lineup that I was really excited about.  Yeasayer, Foals, Alberta Cross, Fanfarlo and Band of Horses.  Of those 5, 3 of them clashed!  Unfortunately for me (and many others I suspect), Yeasayer, Foals and Alberta Cross clashed pretty badly.  The Amphitheatre is quite a hike from the other two stages, so getting around took some time, especially when there were 32000 other people running between stages as well.
For this stroke of bad luck, I had to choose my time wisely, and although I didn't get to see a lot of Foals, I did manage to catch most of the other two…
Yeasayer
(Fri 30 July 3:30pm- Amphitheatre)
After hauling ourselves up the track to the Amphitheatre, we were met by a few thousand others who had the same thought as us- YEASAYER.
Yeasayer's timeslot had miffed us both when the timetable was realeased. I was sure they would have been on at night, and at the Mix Up tent, but alas, no, here they were at 3:30 in the afternoon on main stage.
As we got to the Amphitheatre, British India were just finishing up their set. At the entrance to the stage, we were offered the choice of lower, or upper. We chose lower. Glad we did too.
I'm not the fittest bloke on the block so it was nice to have a mellow look around and a bit of a sit while Yeasayer's crew started setting up.
It was at this point that I think we realised how big Splendour was this year.  In previous years, there's only been 15 000ish people. This one was more than double that, at 32 000.  Down at the other two stages, it seemed like any other Splendour, with plenty of room and you always feel like you're pretty close to the stage.
The Amphitheatre was a completely different kettle of fish (where did that saying come from anyway?).  It's freaking HUGE.
I took some pics, we sat and had a smoke, and the first of many of the mid-strength beers that weekend.
The crowd went nuts when they came on, and the set was great.  I decided to see how my camera would go at shooting video, so gave it a crack during Madder Red, and this is how it came out:
Pretty cool huh?  Unfortunaterly I didn't realise the sound would be so good (I know it's not brillaint, but c'mon, this is a shitty camera), so didn't take a hell of a lot of video for the festival.
This is O.N.E. from ShittyCam:
Once again, rad to the power of sick.
And here's some pics of the Yeasayer set….
You can stream The Yeasayer set from Splendour in The Grass from the Triple J site. w00t.
Foals
(Fri 30 July 3:45pm- Mix Up Tent)
As I said, having Yeasayer and Foals clash was (for me), something akin to Tony Abbot winning the next election.  So with that in mind, I hauled arse down to the Mix Up tent to see as much of them as possible.  Wifey decided it wasn't her bag, so she set off back to camp for a non mid-strength drink….
I only stayed at Foals for about 5 minutes, as I was keen to get to Alberta Cross (again, WTF?). Foals were brilliant, and by the looks of it, about a gazillion other people thought so as well, as the tent was overflowing with people.  I wish the clash hadn't have been so bad as I would have loved to have seen more, but, alas, you can't have everything. Where would you put it?
So back on my stumpy legs for the short jog to the G.W. McLennan tent for Alberta Cross….
Alberta Cross
(Fri 30 July 4pm- G.W McLennan tent)
By the time I got there, Alberta Cross were in full swing.  Surprisingly, there weren't alot of people there. I guess they were hanging at the Amphitheatre for Little Red or were at Foals.
The band sounded great- they were rediculously tight and the sound was incredible.  In hindsight, I'd say these guys were my highlight of the weekend.
Once again, I pulled out trusty ShittyCamTM and shot some footage:
ATX was killer.  Maybe it's just be, but I reckon Petter Ericson Stakee (the singer) could well be the love child of Chris Robinson and Axl Rose.
After Alberta Cross were done, I decided to head back to camp.  I had wanted to check out Little Red and Sally Seltmann, but was feeling a tad peckish, and was also wanting a stronger drink than the bar could offer.
So back to camp went I.
Midlake
(Fri 30 July 7pm- G.W McLennan tent)
After a few lovely full strength drinks and some well deserved food, we strode back into the madness for Midlake.
Seriously fucken cool.  Great. Awesome.  And reeeeaaaaaaaaaallllly mellow.  Which is great- I love mellow tunes. But at this point in the night, I needed something a bit more 'up'.  To be honest, if Yeasayer and Midlake's times were swapped it would have suited me much better.  I know others would disagree, but fuck 'em, this is my blog so my opinion rules.
I decided I needed a dance so wandered over to meet up with Wife who was at Hot Chip.
Hot Chip
(Fri 30 July 7:15pm- Mix Up tent)
OK- so I've never been a Hot Chip fan.  They've always kind of annoyed me a bit I think.  Not sure if it's because I don't really like their tunes, or because the singer sounds like Limahl.  Either way, here I was watching them.
I had a dance, heard some hits and was happy with that.  I wouldn't call it an inspiring set, but it wasn't crap, so we're all good.
After Hot Chip, it was decided that dinner was next on the agenda, as well as more of those drinks that weren't over priced middies….
The Temper Trap
(Fri 30 July 9:15pm- Amphitheatre)
So, next on the bill were Temper Trap.  These guys were great.  I'd seen them momentarily at a V Festival a year or so ago and had thought they were ok.  Tonight they were positively on fire.
A few of the Mumford & Sons lads came out to lend a hand with 'Down River', which the crowd obviously loved.
The biggest song was, of course, Sweet Disposition.  Some mofo in my office had been playing this song non-stop for the last six months, so all the lyrics and every change have osmosed into my consciousness.  I filmed this little beauty for a mate at work who hates this song with absolute passion (mainly due to it being played 50 times a day over the last 6 months).  This one's for you Glen:
Ben Harper
(Fri 30 July 10:45pm- Amphitheatre)
OK. So I wasn't sure what to expect for Ben Harper, but whatever it was, it was quite different to what we got.
We'd heard that he wouldn't be playing his normal set, as one of The Relentless 7 was ill.
What we got was a lot of guitar doodling and a bunch of new material, which his fans absolutely loved.  For me, it just didn't cut it.
I copped a fair bit of shit from my mates for saying this, but in my humble opinion (IMHO for you gen-Yers), I reckon if you're headlining a massive festival, you play a greatest hits show.  Am I wrong?  To be fair, the show was actually great for what it was, it just wasn't what I wanted.  And as I said before, this is my blog, so what I want goes.
The highlight was by far when Jon Farris from INXS came on stage for a rendition of Never Tear Us Apart.
I didn't film that, but just did a search on Youtube and found this gem- no idea where this footage came from but it's class.  I wasn't sure if it was from Splendour, but it is, as at the end you can see the gold-pass tent and the Amphitheatre Hill from the stage.

And so, day 1 was done. Two to go….
Did you see Splendour In The Grass 2010, Day 1: Fri 30 July? So far, 2 people have commented, why don't you too?