Pop Will Eat Itself @ The Hi Fi, Melbourne (Sun 7 Sep 2014)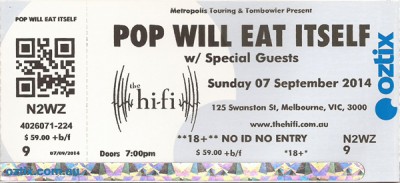 Pop Will Eat Itself. One of those bands I must say I never thought I'd see live. Tonight's incarnation was a long way from the PWEI that I got into all those years ago, with Graham Crabb being the only original member on stage.
That said, it was still a cracking show. Would love to have seen the original lineup with Clint Mansell as well, but Mary Byker did a good performance taking his place. It was also great seeing Jason Bowld on drums again after seeing him play for Killing Joke last year.
The set was full of the hits that I was hoping for – Def Con One, RSVP, Ich Bin Ein Auslander etc, with even the newer songs sounding bloody great.
If I could say anything negative about the show, it would be two things:
1: There's a shitload of samples going on in a PWEI gig, and that fact that there was no-one on stage triggering these felt pretty inauthentic. From simple percussion (tabourines etc) to piano parts, and the actual sampling of other songs (Tears For Fears et al), it really felt that there should have been a sixth person on stage doing these. That may sound weird, but when you're watching five people on stage who are doing nothing while there's a shitload of sounds happening, it does make you wonder how much of what they're playing is actually live.
2: Graham Crabb acts like a 17 year old. From telling the audience that he just came on them because the last song was so good, to telling Mary Byker that it's 'gay' that he has to use a wired mic because the wireless one died. He came across as a puerile twat and was a bit of a letdown. Again- I'm being nitpicky, but that's just how it felt. A 50 something year old telling it how it is, if only it were 1990 and he (and his audience) were a lot younger.
I really enjoyed the show, regardless of the above, and the band seemed to as well. There were quite a few technical issues with the sound, but all in all it was a bloody great night, and Saminator 2.0's first rock experience as he/she listened in from Wifinator's womb. Albertron-the-brother-in-law was there as well and loved it too.
This gig made me look forward even more to seeing Clint Mansell while he's out here next month for The Melbourne Festival- obviously it'll be a completely different show, but nice to know I'll be seeing two original members of Pop Will Eat Itself, even if not in the same venue or playing the same genre of music.
Crabb said PWEI will be back again soon, and I'll be there. I'll even buy the new album I think.
Some shaky pics below…
Did you see Pop Will Eat Itself @ The Hi Fi, Melbourne (Sun 7 Sep 2014)? Tell us about it