Calexico @ Thornbury Theatre, Melbourne (9 March 2010)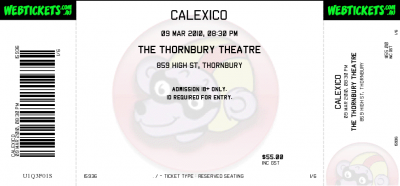 This was the third Calexico show I'd seen in as many cities. Seems that both they and The Shins are two bands I can count on not having to travel for. So if I ever move to… let's say Hobart, then both a Calexico and a Shins tour are sure to follow.
This was my first (and hopefully not last) visit to The Thornbury Theatre.  Absolutely magnificent room, reminding of a much scaled down version of Sydney's State Theatre.
First up tonight was Spaniard, Jairo Zavala. I didn't know what to think of him at first- he was certainly a magnificent guitarist and fabulous singer… but it took a while for me to really enjoy his set. After the first 2 or 3 songs though, I was hooked. He was a very funny character and his grasp of English wasn't great, which made the show that much more enjoyable. He was more than happy to take the piss of himself and the songs really were great. Towards the end of the set, most of Calexico got up and played as well. Quite lovely.
Calexico made it to the stage with only a short break after Jairo, and low and behold, Jairo joined them for the whole set. At some points through the show, he was the main focal point, taking on vocals and guitar. This was the best I'd seen Calexico, and that's saying a lot, as they're always good. Admittedly,I don't know much of their newer stuff, so was happy to hear large chunks of material from Feast of Wire and Hot Rail.
They were tight, funny and contagious. The multi instrumentation talents of some of these guys is mind blowing.  The set was punchy and delivered all I wanted to hear, so I was a happy camper.  Hopefully I don't have to move cities to see these guys again….
Setlist from the Calexico website:
01. bisbee blue
02. quattro
03. across the wire
04. bend to the road
05. improv song
06. sunken waltz
07. red blooms
08. victor jara's hands
09. minas de cobre
10. inspiracion
11. house of valparaiso
12. two silver trees
13. woven birds
14. el gatillo
15. guero canelo
Encore
16. not even stevie nicks
17. in the reins
18. alone again or
19. crystal frontier
Did you see Calexico @ Thornbury Theatre, Melbourne (9 March 2010)? Tell us about it