Bruce Springsteen @ AAMI Park, Melbourne (Sat 15 Feb 2014)
Two Bruce Springsteen tours in less than a year- you've gotta be happy with that, right?
As usual, we missed the supports. We'd have loved to have seen Dan Sultan, but unfortunately he was on too early. The in-laws flew in at 4:30pm for the show, and Sultan was hitting the stage at 5- there was no way we'd make it.
It would have been interesting to see Hunters & Collectors, but with everything else that was going on with airport trips and having to eat etc, it seemed unlikely, and to be honest, I'm not that cut-up that we missed them. As I said, wifey's folks flew down for this show after we'd raved about the last one. Wifey was also in attendance, along with Albertron the brother-in-law.
Springsteen hit the stage just after 8, and powered straight into AC/DC's Highway To Hell, with the very special guest of "my friend Eddie Vedder". An unexpected surprise that we'd been discussing before the show. Vedder is currently in town on a solo tour after the Pearl Jam tour last month. We knew he was playing The Palais on Sunday, so had a night off tonight- would he make an appearance? Yes indeed.
Having both Steve Van Zandt as well as Tom Morello on guitar was great as well (Morello filled in for Van Zandt on the last Aussie tour while Van Zandt was filming season 2 of Lilyhammer).
After Highway to Hell, the band went into Darkness on The Edge of Town with Vedder and Springsteen sharing lead vocal duties- quite the treat I must say.
Vedder left the stage and then it was down to business – Badlands was belted out, followed by a few of the cover songs from High Hopes, Springsteen's latest release. The highlight here by far was The Saints track, Just Like Fire Would. Being a Brisbane lad, one can't help but have a sense of pride when one of the worlds most popular musicians covers The Saints. The recorded version on the High Hopes album is also fabulous.
The surprises of the night weren't over. As the sun started to set over the venue, Springsteen told us that they'd done a few shows around the place since the last time they were in Melbourne, and never liked doing the same thing twice, so were going to do something different tonight…
The Born In The USA album.
In its entirely.
From start.
To finish.
Be still my beating heart.
The band powered through the album, and we were stoked as we got to hear a bunch of songs that weren't played at last years show in March. Cover Me, Glory Days and My Hometown were the favourites of the bunch.
At the conclusion of the album, the band kept going. And going. Most songs tended to have the big drum roll and cymbal wash followed by Springsteen yelling "1-2-3-4" and going back into the song once more. To be honest, it got a bit much after a while and there did seem to be a lot more guitar wankery for this show. I guess having Van Zant, Morello and Nils Lofgren on one stage does mean that some guitar wank is bound to happen. And let's be honest, Bruce likes to have a dabble every now and then as well. I'm not complaining by any means – to get a show that's over 3 hours long from such a big performer only happens once in a blue moon. More to the point, it only happens when Bruce Springsteen tours.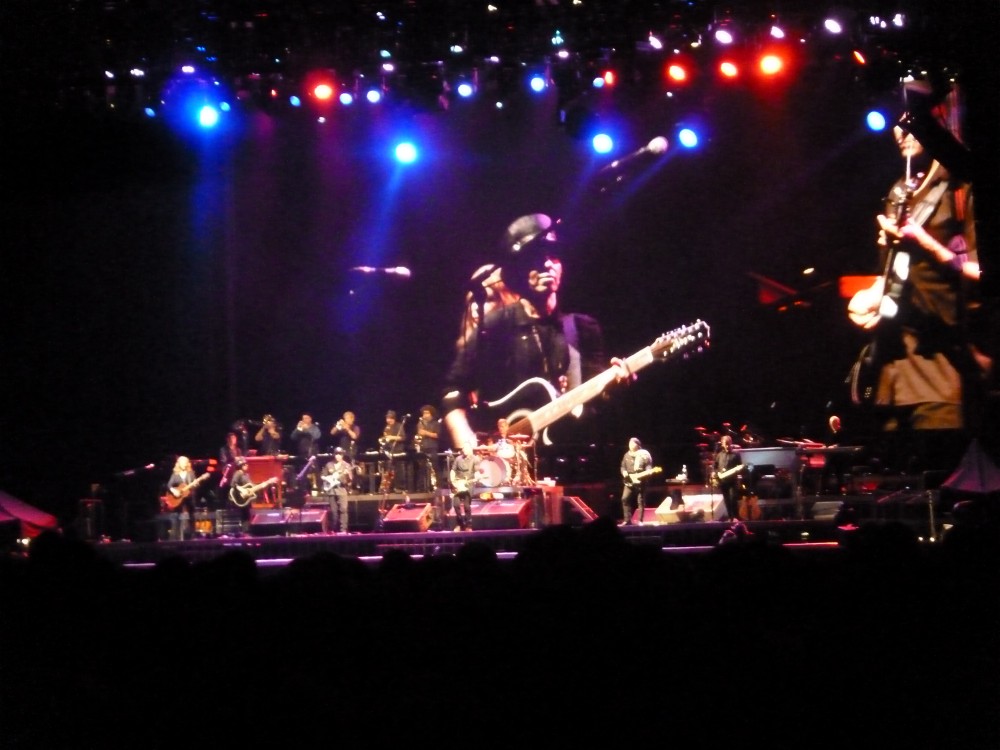 There was some hilarity as Bruce brought 3 men to the stage who were dressed as Springsteen's backing vocalist Cindy Mizelle. They were holding a sign saying "can we dance with Cindy", and so that's exactly what they did- and not before grabbing some guitars from the stage and pretending to play along with the band. I've got some video of it which I'll upload and put here in the next few days. As Bruce said, "this could only happen in Australia."
Although the show didn't have the same 'intimacy' as when we saw him last year (we were much closer and in a smaller venue), it was still a spectacular gig and one I'll be talking about for a while.
Bruce Springsteen and The E Street Band are still at the pointy end of my favourite live acts, and we'll no doubt be there again when they next tour.
Did you see Bruce Springsteen @ AAMI Park, Melbourne (Sat 15 Feb 2014)? Tell us about it