Powderfinger @ Rod Laver Arena, Melbourne (Fri 10 Sep 2010)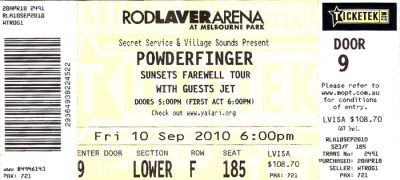 So, although I've seen a shitload of Powderfinger shows, I've not actually seen a Powderfinger show for some time.  Probably close to 10 years. Yeah- I've seen them play a gazillion festivals, but when I say I've not seen them for a while, I mean a POWDERFINGER show, where you go specifically to see THE BAND.
Many eons ago (about 15 years), in a Galaxy far far away (Brisbane) and in a different life, I used to play in bands. In those days, everybody wanted to be Powderfinger, even before they'd 'made it'. They were always the consumate professionals, one of the few bands in Brisbane that really put their money where their mouth was, and toured. And toured. And toured.
It's all well and good to play in bands and try to get to the next level, but to have a band where every member was on the same track, and to be so dedicated to getting there, is nothing short of remarkable. Think about it- you're in a group of 4 or 5 mates, and you need to make a decision about whether you're going to stay on the dole and pump every cent of spare cash into this band that you love…. while your other mates are at uni or working 'real jobs' and seem to have a definite 'future'. It's a bloody hard decision to make, and every band has to make it at some point. Pretty much every band I've been in has split up for those reasons, or similar- jobs/girls/study/whatever. My point is, that for over 10 years, these 5 guys did that- every cent and hour went to the band, with no guarantee of payback. And no one quit. Out of all the bands who I've ever had the pleasure of playing with, these guys are the ones that deserve to be where they are.
I've been looking forward to this show for ages, and am also heading up to Brisbane for their last ever show, which will be pretty cool.
BUT- enough of my drivvle…. onto the show….
I'd not been to The Rod Laver Arena before, and had no idea what to expect.  On telly, it looks pretty big when the tennis is on… It's actually quite small, for a 'big' venue.  Very similar to the Convention Centre in Brissie, or The Hordern Pavillion in Sydney.
So- Jet opened the precedings.  Actually, The Vasco Ero did, but we missed them.  So, back to Jet.  I've never really been a fan of these guys- I know they have lots of loyal fans, but for me, it's just pub rock.  And I still can't reconcile the fact that the opening bars of "Are You Gonna Be My Girl" are lifted directly from "You Can't Hurry Love" by The Supremes. But, I shot some camera stuff anyway:

We got in there late for them, saw a couple of songs and then went back to the bar…..
After a short wait, it was 'Finger time. I won't bother to write about every song, but here's the setlist with some video (quite a bit actually), and the occasional commentary….
Love Your Way
(Vulture Street)
Lost and Running
(Dream Days At The Hotel Existence)
Burn Your Name
(Golden Rule)
Sunsets
(Vulture Street)
Bless My Soul
(Fingerprints)
Sail The Wildest Stretch
(Golden Rule)
Thrilloilogy
(Odyssey Number Five)
I've always loved this song, and was quite surprised to see it in the set. Like Is said, I've not seen them for a while, so didn't know which songs were live favourites.  I don't think it was ever a single.  I've just been looking at the setlists from previous shows on this tour, and it seems to be in every show.  Either way- glad it was there.


My Kinda Scene
(Odyssey Number Five)

After this one, there was a very U2-esque interlude with black and white video and soundtrack (the soundtrack wasn't black and white.. you know what I mean) and the lights went down….

Then we noticed the a small stage was being set up at the back of the room, right near us. Lovely. After a short wait, they came up and blasted out Like A Dog.
Like A Dog
(Odyssey Number Five)

The sound was a bit odd for these ones- I guess because from how close they were, we could hear the live sound (which was bouncing off the back wall) as well as the Front of House coming from the front of the room. It was really only the snare- so that suited me just fine.  It was a pretty cool effect for Like A Dog, as the small stage was reminicent of the boxing ring the video was recorded in.
Stumblin'
(Vulture Street)
After Stumblin, Bernard, Darren, Ian and John walked off, leaving just Jon to do a great drum interlude. One of the things I used to love about seeing Powderfinger back in the day, was Jon's drumming. Being a drummer myself, when I go and see gigs, I'm generally looking at the drummer, and that's about it. The singer can ponce around the stage as much as he or she wants, I really don't care.
Parables For Wooden Ears has got some freakishly good playing on it, and after that (Mr Kneebone to some extent, but definitely from Double Alergic onwards), the band stripped back to 4/4 and Jon didn't really let loose as much as he used to.
After he'd done his thing, the rest of the band (sans Bernard) came up for a play:

Whatever Makes You Happy
(Odyssey Number Five)
As you saw from the video above, Bernard was obviously scurrying back up the front to do this one. I love this song.
(Return Of) The Electric Horseman
(Double Allergic)
My Happiness
(Odyssey Number Five)
Passenger
(Internationalist)
Ever since Homebake '99, this has been a favourite of mine, and always will be.

Encore
Capoicity
(Internationalist)
Capoicity is one the best song Powderfinger has ever written. Except for maybe Passenger. And These Days. I'm a sucker for a good ol' anthemic sing-a-long, and this tune is the shizzle at that. The visuals in this were particularly amazing. Unfortunately they don't look so spectacular on my budget camera.

Pick You Up
(Double Allergic)
I remember the first time I heard this song so vividly. It was in 1996 and my girlfriend at the time and I were visiting her parents in Mt Tamborine (about an hour out of Brisbane) and were channel surfing on the drive home. We hit B105 (extremely commercial Brisbane radio) and heard Bernard talking. WTF?! Up until this time, you'd occasionally hear Powderfinger (usually Tail) on Triple J, but never commercial radio. He was talking about the new album (Double Allergic) and introduced the first single from it, which was Pick You Up. It was such a right turn from anything off Parables, that it took me a while to actually like it. It was, of course, the song that took Powderfinger from being a Brisbane band, to a national band.

(Baby I've Got You) On My Mind
(Vulture Street)
Encore 2
These Days
(Odyssey Number Five)
Didn't get this on film as the camera ran out of batteries. Fucking incredible. This is one that I'm really looking forward to seeing again in Brissie.
The End
Overall, the band sounded like a pub band, that really should have been playing a pub. It was great sound, very tight and all that, but one of the reasons I've not seen them for so long, is that they just sound better in a smaller room. The vibe was great- everyone from the aged hippie to the tradie and the middle class mums loved it. As I mentioned before, the visuals were absolutely sensational- mind blowingly good.
With this sort of show, you're always wanting for more, particularly as it's a 'final' show. Looking at the previous sets from the tour, it doesn't look like they stray too much either way from show to show. Personally, I'm hoping when I see them at their last ever show in Brisbane on Nov 13, that they pull out some of the oldies from Transfusion and Parables. I've love to hear Tail live one more time, and how awesome would it be for them to close their last ever show with Reap What You Sow?
Either way, if you're reading this before the end of the tour, try and make it to a show. It really is worth a look, even if you're just a passing fan who knows one or two radio hits.
Very much looking forward to the November Brissie show.

Edit: As it happens an unexpected overseas trip has popped up so will now be seeing their last ever Melbourne show at the end of October instead of the Brisbane one. Bummed to not be seeing the 'last ever show', but these things happen….
Did you see Powderfinger @ Rod Laver Arena, Melbourne (Fri 10 Sep 2010)? So far, 1 person has commented, why don't you too?