Nick Cave & The Bad Seeds @ Sidney Myer Music Bowl, Melbourne (Sat 2 Mar 2013)
The last time we saw a Bad Seeds gig was eleven years ago (almost to the day) at Festival Hall in Brisbane. That show was the loudest in living memory, so the ear plugs were packed as we made our way to the Music Bowl for tonights show.
I've only been to the Music Bowl a few times, but it's an excellent venue. I've only ever sat in the stalls, so can't comment on the GA area, but in my experience the sound has always been excellent, and you can see from anywhere.
Being that we were in allocated seating, we arrived late and missed Mark Lanegan. It wasn't entirely all our fault as our cab driver seemed as though he really wanted to check out the backstreets of Melbourne and go for a bit of an explore. Ordinarily I'll trust a cabbie in my own town that they might know a better way then me. Tonight was not one of those times. Anyway, I digress….
We eventually arrived and had a few beers with some friends in the GA area before heading down to our front row seats in the stalls. When tickets went on sale for this gig, I noticed that they went on sale from 7am, which is unusual- usually it's 9am. So getting front row seats was easier than usual as I'm guessing most people didn't notice the early on sale time.
It was all very civilised as we took our seats, and everyone stayed seated throughout the first part of the set.
The evening started with The Bad Seeds running through the bulk of their latest album Push The Sky Away. I've only been listening to this album for a week or so, but for me, it's the best Bad Seeds release to date. Although I'm a fan of the band, I really couldn't tell you what song came from which album, or when they were released etc. I just know a bunch of songs that I like. This is the first Bad seeds album for me, that fits the moniker "All killer, no filler".
Tonight's show had the Melbourne Symphony Orchestra as well as a choir of school kids from Gardenvale Primary School backing the band. Who could ask for more? The sound was excellent and the songs from the new album really shone with the orchestra and choir. The kids certainly looked they were having a good time.
We No Who U R sounded sublime as an opening track, both at this show, and on the album.
Cave told us that he'd written Wide Lovely Eyes for his wife (somehow the fact that he needed to read the lyrics for this one made the fact he'd written it for his wife humourous to me). The song sounded fabulous and the instrumentation of this song is particularly curious- moments of it sounding completely out of time but all working in the end.
Water's Edge is a song that I've not connected with on the album. I was actually saying to the wife yesterday that it was my least favourite song from the album. Tonight though, it sounded excellent.
My favourite song from the album at this point is Jubilee Street. The choir and orchestra took it to a whole new level tonight- absolutely sublime, and I had goose-bumps throughout. Mermaids is a corker of a song too. According to the setlist of setlist.fm, that song wasn't played. I don't remember specifically hearing it, but I don't remember not hearing it either, if that makes sense. The same goes for Finishing Jubilee Street. Being that both of those songs were played in Sydney over the previous two nights (27 Feb and 28 Feb), I'm not sure if the setlist above is actually 100% correct.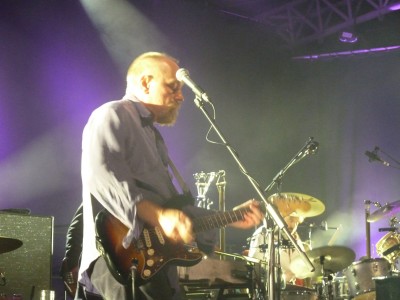 We Real Cool and Higgs Boson Blueswere excellent as well- what can I say- there were no weak moments tonight.
The title track of the new album, Push The Sky Away, was the highlight of the first set. Once again the choir and orchestra pushed the song to an emotive level that can be hard to capture live with a song with so much instrumentation.
At the end of Push The Sky Away, Cave announced that they'd now play the hits. This was obviously some sort of secret code that everyone in the front of the stalls knew it was time to get off your bum and stand up and race to the front. We were a little late to the party and although we were at the font of seating, quickly found ourselves a little way back. No matter, this was a Nick Cave crowd, so there was little push and shove, and everyone had room to move around and see from a good vantage point. We stayed there for a while, and eventually left to answer the inevitable call of nature that happens after one has downed 4 or 5 beers.
The view from the top of the stalls section was amazing, and the part of the stage that had previously been blocked to us was now plainly visible with the rest of the band and orchestra now being able to be seen. We stood and watched from up there for a few songs, before being asked to move along as we were in an emergency stairway.
If I may digress for a moment: The usher who asked us to move along offered us access to the balconies, as well as noting that we could move further forward. Obviously from the amount of photos I took, they weren't particularly bothered by photography in the slightest either. I think ushers from different venues (I'm looking at you Palais Theatre) could take a leaf from their book. The fact that we could move around freely and were treated less like children, but more like fans who wanted to see as much of the show as possible from different vantage points was a welcome change.
We returned to the front and enjoyed the rest of the show from there. The 'hits' part of the show was obviously awesome, with The Ship Song and Papa Won't Leave You Henry being highlights. It was an interesting way to play a set, with all new at the beginning and the crowd favourites at the end. I imagine there would have been more than a few people there who didn't know the new album, and may have been wondering if they were going to get any hits at all.
After an eleven year break from seeing Nick Cave and The Bad Seeds (apart from Grinderman at Meredith 2011, but that doesn't really count), I'm wondering why I haven't been more vigilant with seeing them when they tour. Rest assured, I'll be there next time, and the time after that.
Did you see Nick Cave & The Bad Seeds @ Sidney Myer Music Bowl, Melbourne (Sat 2 Mar 2013)? So far, 2 people have commented, why don't you too?