Dolly Parton @ Rod Laver Arena, Melbourne (Wed 23 Nov 2011)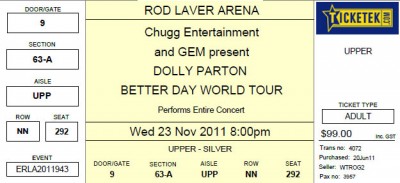 As expected, this show was pretty spectacular.  Dolly Parton is an incredible performer, and one of the most professional and polished I've seen (I suppose she'd want to be after doing her thing for this long).
The set list contained everything we wanted to hear (except for Apple Jack, but you can't have everything).  She played a slew of covers, explaining that she loves to play other peoples music.  I'd say at least 20% of the show was covers.  Some were great (River Deep, Mountain High), and others were, well, questionable (Shine by Collective Soul… um, eh, wat?)
We had attrocious seats, but at least with Rod Laver Arena, you can see and hear from any seat in the room. They (whoever 'they' are) were filming the night for a DVD release, which meant there were some mightly big lights shining on the audience for much of the show. the crowd weren't happy about it, and neither was Dolly.
Even with the average seats and the questionable covers, it really was an excellent show, and a fine example of someone who's been doing this a long time, and has lost no grace or professionalism in the process, which isn't always the case…..
Did you see Dolly Parton @ Rod Laver Arena, Melbourne (Wed 23 Nov 2011)? So far, 7 people have commented, why don't you too?