Explosions In The Sky @ The Forum, Melbourne (Thu 8 Dec 2011)
This was a show I'd been looking forward to for some time.  When the Meredith lineup was released, and Explosions In The Sky were on it, I was a little more than excited. The prospect of a sideshow was even better- I get to see one my favourite bands twice in two nights.  Lovely.  This was a practice I'd started a few years ago- some bands I'd travel to see more than one show in a tour (mainly U2), and others (Elbow), I'd see the festival sideshow as well as the performance at the festival itself.
Getting to the show was an interesting affair. Being that I had an early start the next day to get to Meredith, I decided to get there just in time for the show and leave straight after.  Having a few drinks wasn't really an option, so limiting my opportunity seemed the best way to go.  I left home to get the tram into the city, but no tram came (as happens on occasion in Melbourne). Mild panic set in that I wouldn't make it in time, and after waiting for what seemed like an eternity (probably closer to 5 minutes), a cab finally came past- I hailed it, and go in.  My first question to the cabbie after telling him my destination was "How's your night been?"  This was met with "I fucking hate this job mate". It went on from there as I heard all about how the country was fucked, and that it's all geared towards the "blacks and the Asians".  I then heard about his girlfriend, who he was going to go home and "check on" at midnight to make sure she'd not snuck out.  I fear what the punishment would be if she had.  I won't go into the rest of the conversation, but I'm sure you can guess the rest.  This guy was the most bigoted, angry, fucked up human I've come across in a long time.  It soured the beginning of my night to some extent, but in a selfish way, when I got out the cab I couldn't help but be so happy that my life was nothing like his.
Anyway- on to the show…
The gig had sold out some weeks before, and was bursting by the time I got in, about 15 minutes before show time.  I found my friends, found a good position and waited.
They opened with The Only Moment We Were Alone from The Earth Is Not A Cold Place album from 2003.  The sound was spectacular, and the crowd was in a trance. Next up was Last Known Surroundings from their latest album, Take Care, Take Care, Take Care. They actually played everything from the new album, except Trembling Hands. Setlist is over there to the right. I'm pretty sure that's correct, and if not, it's pretty close.
There were two songs in particular I was really hoping to hear tonight, both of them from The Earth is Not a Cold Place. The first was Your Hand In Mine (which was also on the Friday Night Lights Soundtrack), and the second was the album's opener, First Breath After Coma.
I got Your Hand In Mine around the middle of the set. It was an awesome performance of it, and I managed to get a bit of video.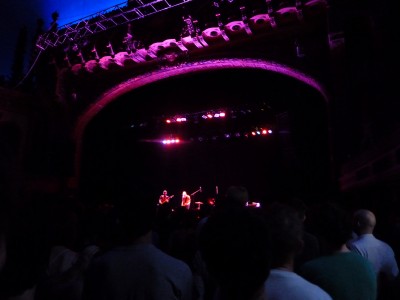 Unfortunately for me, there was to be no First Breath After Coma tonight. Maybe I'll get it tomorrow at Meredith, although I've been looking through their sets on setlist.fm, and it doesn't seem likely as it's not a popular song in the set. You never know, I could get lucky.
Interestingly enough (or not), when the end of the set came around, I felt it was good time. It was awesome to hear and see the band, but after an hour or so, it seemed enough. I remember having similar feelings seeing Mono at same venue a few months back. Maybe it's that instrumental post-rock gets a bit much for me after a while? Who knows, but with that in mind, I feel like I could listen to Mogwai for hours on end. Possibly it's because their sound is a bit more varied that both EITS or Mono?
Either way, I certainly wasn't disappointed by the show in the slightest, and am very much looking forward to the Meredith gig this weekend.
I only took a few photos, and most are pretty shakey, but here are a couple.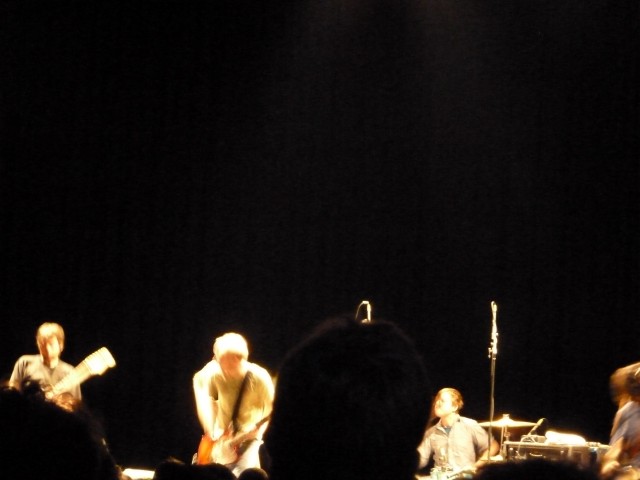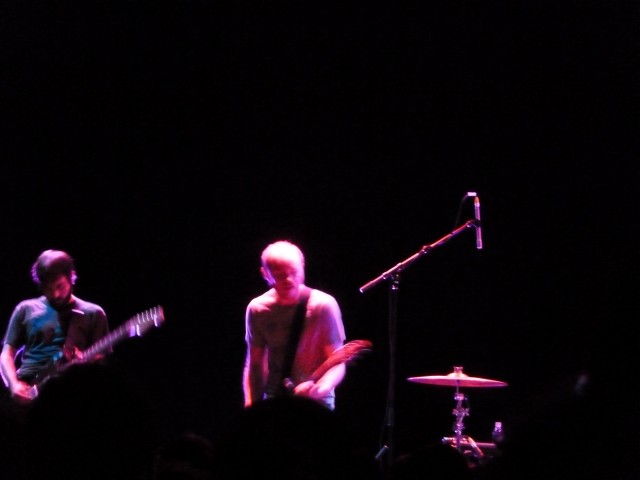 Did you see Explosions In The Sky @ The Forum, Melbourne (Thu 8 Dec 2011)? Tell us about it