Active Child @ East Brunswick Club, Melbourne (Wed 8 Feb 2012)
SO. When the 2012 Laneway Festival lineup was announced, it was, as I had expected, full of bands whom I'd not heard of, would never likely listen to, and had no interest in finding anything more about.
Yes folks, I'm old. Don't get me wrong- there are a bunch of artists there I quite like (The Panics, M83, Pains At Being Pure At Heart etc etc), but the vast majority are hipsters in shoes that should be worn with socks, and jeans they'll regret wearing in a few years when their partners are asking for babies.
Anyway- my point is that I'd not heard of Active Child at all. Somehow, my lovely wife had. Tickets were purchased and I was gearing up for the first gig in a long time that I was being dragged along to, and not the other way around. I was keen to go for other reasons as well. The East Brunswick Club is a short stroll from our house, and it's closing down at the end of Feb, so this was going to be my last opportunity to see a gig there.
ANYWAY. The show was exceptional. Since the gig I've listened to that album maybe a million times, and wish I'd known it more at the show. Pat Grossi's vocals were impeccable, (as was his harp playing) and the band (drummer and bass player who also played guitar) were brilliant. Honestly, I cannot fault the show at all. My only regret was that I didn't know more of the music beforehand, and that the only camera I had was my phone. One interesting thing to note is that the sound was actually good. The last few 'big' shows (ie: sold out international acts) that I've seen at The East have had absolutely shit-house sound (yeah, I'm looking at you I Am Kloot and Clap Your Hands...). He also came across as quite humble and extremely thankful for the attention he was getting.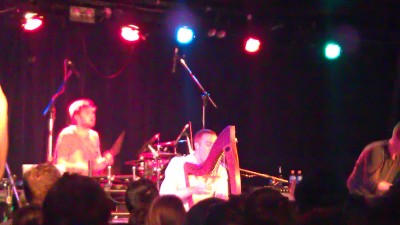 That's really all I have to say about the show. Except that I'm going to listen to my wife more when she tells me about new music she's listening to.
Did you see Active Child @ East Brunswick Club, Melbourne (Wed 8 Feb 2012)? Tell us about it