Splendour In The Grass @ Woodfordia, Woodford (Fri 29 Jul 2011 – Sun 31 Jul 2011)
So yep, I'm one of those Splendour In The Grass tragics who has been to every single one. This year was number 11. It also ended up being number 1.
I arrived on Thursday afternoon which concerned me a little. Our crew always get to Splendour as early as humanly possible to stake out the best campsite, and to get setup and settled in. This year the rest of my friends and acquaintances (the campsite grows considerably every year) were getting there when gates opened on Thursday. Due to Elbow's show in Melbourne the previous night, I couldn't get there until early afternoon. And no, missing that Elbow gig was NOT an option. As it turned out, all was well- my peeps had managed to keep me a spot. Our site was quite a bit further than our supremo front door jobbie from last year, but as I think I've well established in these blog posts, one cannot have it all. It was at the end of a cul-de-sac type thing, so became known as Ramsay Street.
The setup inside the festival was pretty much the same as last year. The stages were in the same spots and most of the shops and mini restaurants seemed much the same. In place of the spiral sculpture that was next to the Mix Up tent last year was a UFO that you could apparently SMS messages to, and it would display them on a ticker-board thing.
There was no Ibeefa this year which was a bummer. Last year on the Thursday we had a very good dance to some God-awful 80s music on the hill. This year it seemed that the tipi zone was the only place for a dance, so that's where we went. We had a few drinks (some had a few too many resulting in some structurally challenged camp furniture later in the night), bought the obligatory T-shirts and beer tickets and started to get in the mood. All in all a damned fine night, and made all that much better knowing that we had 3 more days and nights ahead of us.
For technical reasons that I won't bore you with, this years Splendour post will be one page, instead one for each day. Being that this will no doubt end up being quite a tome, I made a little menu for you- that's how much I appreciate you reading my drivvle. Skip around to whichever band or day that you want and click the little button under each section to get back to the menu.
One of the fun things about a big festival, is that some of the memories get lost immediately (whether due to excesses or just the fact that there's so much going on that I can't seem to fit it all in my brain, but there certainly were some excesses). So as part of this exercise, I'm also going through my text message history and photos, and they are jogging some hilarious memories!
Radtown- let's GO.
Day 1
At this point I should mention that when I went to bed on Thursday, I got in my sleeping bag, which is rated to be warm at zero deg C, and then rolled myself up in a doona that I borrowed from my folks. I woke up on Friday morning absolutely freezing. No matter, it's much better than being too hot, that's for sure.
Worlds End Press
(Mix Up 11-11:45am)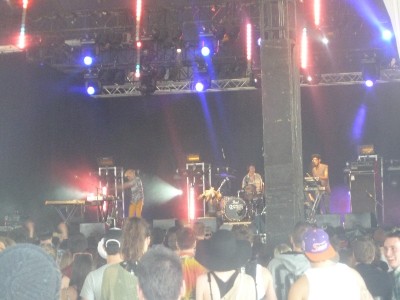 After my piss-poor effort last year of sleeping and being hungover most days and not making it onto the site until the early afternoon, I thought I'd be a hero and get in there for the first band of the day.
Worlds End Press are a band I've never heard of but they were GOOD, and not at all what I was expecting. For some reason I was thinking they'd be some wishy-washy-brit-lily-allen-type-pop-with-a-side-order-of-mid-90s-madonna. Why? I have no idea in the slightest. Anyway, they were more like a yeasayer-psuedo echo-U2-echo & the bunnymen type of thing.
I just had a look at their website, and it turns out they're from Melbourne, so I'll be looking into seeing them again. They have some tunes on their site too- have a listen, and if you like it, buy it. I just did.
British Sea Power
(Amphitheatre 12-12:45pm)
Next up was British Sea Power on main stage. For brevity's sake, they'll now be known as BSP.
I've got a few BSP albums and I don't love any of them as a whole. That's not to say I dislike them either. I just find them a bit, um, meh. There are certainly some great songs on each record, but I've never found a BSP album that's got more than 1 or 2 great tracks. It's ok as background music, but I find it to be pretty meat and potatoes sort of brit-rock. Not a lot of dynamics or style to it…. I am happy for someone to flame the fuck out of me for saying that and to advise on maybe some better albums to listen to. Anyway- my point is that the show was exactly what I expected. A good solid performance of middle of the road rock. It was a good excuse to get up to the Amphitheatre and see if the setup was any different to last year (it wasn't). There was a little spatter of rain through the set which was a bit of a concern, but it cleared almost immediately and was the last time mother nature would threaten the festival, except for the cold at night.
Kimbra
(McLennan 1:30-2:15pm)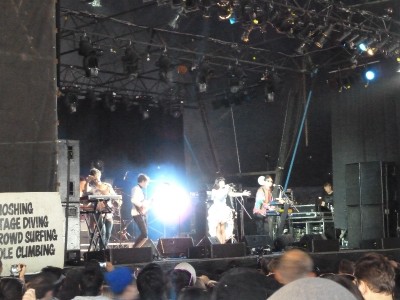 So this Kimbra chick… I'd heard that 'settle down' song on the radio a fair bit, and my wife is a big fan, so I though I'd go and check her out.
Lordy, that girl can SING. She had an exceptionally large crowd for playing so early, and it was a crowd her were really into it. The band was tight and great. Highly recommend seeing her if you can.
Phrase
(Mix Up 2-3pm)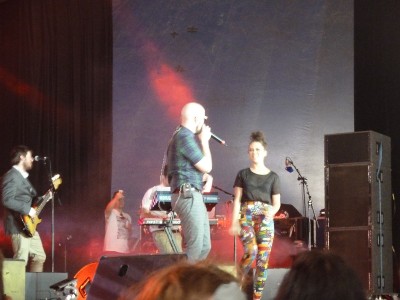 After Kimbra, I was at a loose end. A lot of my fellow Splendourers were going to see Jebediah at the Amphitheatre, but I'm not a fan so thought I'd check out Phrase. Truth be told, I probably like the Jebs more than Phrase, but I just couldn't be arsed walking back to the Amphitheatre again, and it was starting to get hot. So Phrase- you're playing in a tent. That means shade. Phrase wins.
Every festival has it's surprise moments of glory and also it's surprise moments of utter crap. Decoder Ring at Splendour 2003 were a surprise moment of glory (let's call it a SMOG), while the Pixies at Splendour 2010 were definitely a SMOUC.
Phrase fell well and truly into the former. His in-between song banter and postulating has always rubbed me up the wrong way for some reason. Not sure why, as I understand it's part of the hiphop culture to yell stuff like "Come on you fuckers, make some fuckin' NOOIIIZZZZZZZZZZZZZE" as much as it is part of the shoegaze culture to look completely disinterested in what you're doing and that the world could end right now, and you really couldn't give a shit.
So- apart from the hip hop posturing and Phrase informing me that I was a 'fucker', I thought his set was brilliant. The band behind him were inhumanly good (Davey Lane on guitar and vocals in particular). Jade MacRae sang on a bunch of songs as well. As a side note, I just saw on Wikipedia that Phrase and Jade MacRae are married.
You may have guessed I'm not usually a hip-hop fan (with Drapht being the exception), but have heard bits and pieces of Phrase and thought it was ok. The stuff I was hearing wasn't just ok, it was great. He mentioned a few times that most of the material was from his new album that 'drops' sometime in September. So I might just go and get some of that Phrase action, and make some fuckin' noise.
Wild Beasts
(McLennan 2:45-3:30pm)
These guys were good. I only dropped in for about 15 minutes to have a look on my way back out to the campsite. While I was there, I saw two sets of hotel keys on the ground so handed them in- hopefully their owner got reunited with them. Later on that night one of my friends lost his car keys, and they were handed in and he got them back. So, karma – it works.
Intermission
(and a rant about James Blake)
After Wild Beasts, I had the option of seeing James Blake, or heading back to camp and then coming in later for Warpaint. I've heard James Blake's album. It is, without doubt (in my humble opinion) the most horrible waste of hard drive space ever released.
Ever.
If you're reading this, and you're a James Blake fan, please tell me what the appeal is. I just can't see it and can't fathom how he ended up on a Splendour bill.
Needless to say, I went with option two, and headed back to camp. While at camp, one of my old friends who I hadn't seen in a while came by, so we had a few drinks and missed Warpaint. After a few bevvies, we headed in for Glasvegas.
Glasvegas
(Amphitheatre 4:45-5:45pm)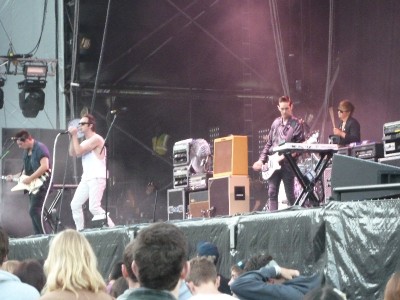 Glasvegas' drummer is a chick. And she plays standing up. Respect.
I thought these guys were awesome. I know a bit of Glasvegas and quite enjoy a bit of a headphone listen every now and then.
The Black Seeds
(Mix Up 5:30-6:30pm)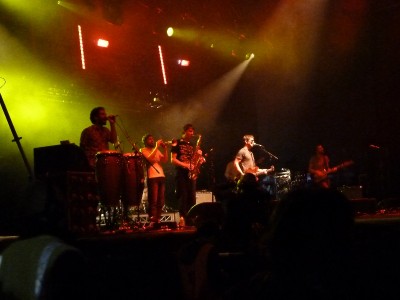 Having a sway to the Black Seeds brand of reggae was a pretty nice way to spend 20 minutes or so. Great vibe and great musos too.
Boy & Bear
(McLennan 5:30-6:30pm)
I like Boy and Bear's music, and one of my friends who saw them last year said they were one of his highlights of the weekend. So anyway- I went along. There were a shitload of people at this. Not really surprising considering how much airplay they got for their Crowded House cover, and their new stuff is getting some good attention from JJJ. I hung around for about 3 songs, and although I enjoyed it, it wasn't what I was after, so bailed back to The Black Seeds after the the Crowded House cover.
Black Joe Lewis & The Honeybears
(McLennan 7:00-8:00pm)
I didn't catch as much of these guys as I would have liked- food was required and I also needed to get to the Mix Up stage for Does It Offend You Yeah. What I heard, I liked, and hopefully I'll get a chance to see them again properly.
Does It Offend You, Yeah?
(Mix Up 7:15-8:15pm)
WHOAH.
Gotye
(McLennan 8:30-9:30pm)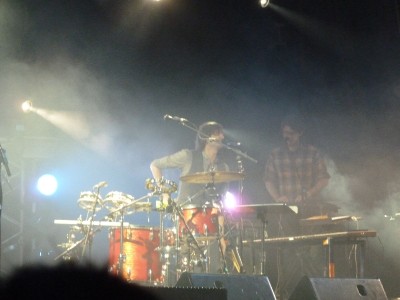 I've not seen Gotye since Splendour 07 when the McLennan stage was an enclosed tent that pretty much burst from the number of people in it. Good thing they got rid of those walls.
We got there about half an hour before he was due to start, and it was already packed. A fairly loose fit though, so we took the opportunity and got pretty close to the front. This was a sensational set and I'm really looking forward to seeing him again at The Forum in Melbourne at the end of September.
Somebody I Used To Know was an obvious crowd favourite, and Kimbra came out for it as well.
Mogwai
(McLennan 10-11pm)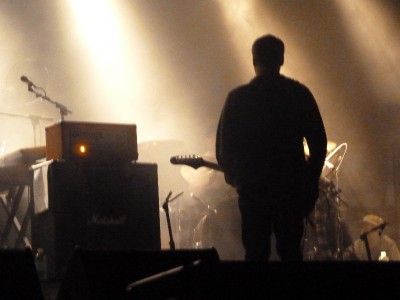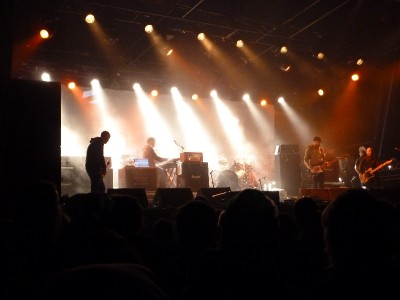 I'm still reeling from this show. Seriously. I don't think I've ever been so moved by a gig ever. Yeah, I was pretty out of it by that stage of the night, but this show was six billion kinds of awesome. Words can't quite describe it.
I remember the first time I ever saw Mogwai and I had no idea who they were. It was at Livid 2002 and I wandered into one of the big top tents that had some interesting sounding music coming from it. I remember thinking that it was the loudest show I had ever seen, and most full-on. Until now.
I don't really remember specific songs from the set although I remember hearing Mexican Grand Prix, Auto Rock and they closed with Mogwai Fear Satan.
I only took short bursts of video in this set. It really was just too good to bother giving a shit about anything else. It was akin to what I imagine a holy person would term a religious experience. Have a look at the third video below of Mogwai Fear Satan and you'll see the faithful gathered to pay homage, in stunned awe.
I may well forget the songs that were played and where exactly I was at the time, but I'll never forget the feeling of that show. Just simply fucking sensational.
If you were at this show and got hit by a flying muesli bar, I apologise. It's far too difficult to explain in a blog post as to the events surrounding that particular scene, but let me assure you, it was pretty funny.
At the end of the set, they said "See you in November". This makes me happy and hoping they'll be announced on the Harvest Festival lineup.
DJ Shadow
(Mix Up 10:45-11:45pm)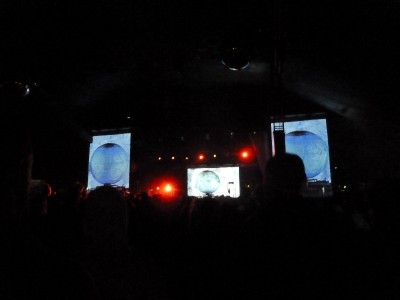 After being completely knocked over by Mogwai, I needed a dance, and DJ Shadow was what I needed to dance to. The other option was Kanye West, which wasn't an option, so there you have it.
Day 1 wrap-up
At this point, I think I'd already made the call that this was already the best Splendour yet. The day was fantastic, and I was pretty stoked with myself for seeing so many bands. The highlights were definitely Mogwai, Gotye & DJ Shadow.
Day 2, Saturday 30 July
I woke up still wearing my glasses on day 2. Yes, that's how messed up I got the night before.
Very slow morning today. The recovery took some time. While I had the best of intentions of getting inside to see Ghoul (who I saw support Yeasayer a while back and thought they were quite good), Cut Off Your Hands, Gareth Liddiard and Fitz and The Tantrums, it just wan't going to happen. So I stayed at camp and nursed a sore head. Eventually I summoned up the strength to go inside to see The Jezabels.
The Jezabels
(McLennan 2:45-3:30pm)
Why The Jezabels were not on main stage is beyond me. I've never seen the McLennan Theatre so packed, and only hung around for a couple of songs. I couldn't see or hear anything, and was getting jossled around a fair bit, so decided to head back to camp.
Silly Splendour, and yes, poor me.
Intermission
At this point I'd planned to go back up to main stage for Children Collide, but alas, my jelly legs wouldn't take me, so back to camp I went. A few of the crew went off to see Foster The People and came back with mixed reports ranging from awesome to complete bollocks. Interesting.
I'd planned to see Sparkadia as well but still, sitting at the campsite seemed a much better idea at the time. There were a few of us feeling a little worse for wear, so we sat around camp talking. I learned a bit about financial planning as well as molecular biology as well as industrial cleaning machines. That's one thing I love about the good old camping festival- everyone's there for one reason, but we all come from such different backgrounds and careers. Interesting shit.
I heard Kele's set in the distance, and it actually sounded pretty good. I can't stand his solo stuff, but from accounts of some people who were there, it was apparently a great gig.
In time I got over feeling sorry for myself and wandered back in.
Seeker Lover Keeper
(McLennan 5:30-6:30pm)
I had zero intention of seeing Seeker Lover Keeper at all. I quite like Sarah Blasko and Sally Seltman, so had high hopes for the album. Alas, it failed to please my eardrums and it was a lot more like wet cardboard than I was hoping. A few friends were seeing them, so I thought I'd go along for a look. It was pretty much what I expected, but quieter.
Architecture In Helsinki
(Mix Up 7:15-8:15pm)
Next up was Architecture In Helsinki who are a band I've only just started to listen to.
Looking back over my twitter stream, it seems evident I had fun ("Dancing the shit out if architecture in Helsinki"). I remember Escapee going off like a frog in a sock.
Isobel Campbell and Mark Lanegan
(McLennan 7-8pm)
I think I needed a break from dancing so hard at Architecture, so headed back to the McLennan tent for Isobel Campbell and Mark Lanegan. I don't remember a hell of a lot of this set, although I tweeted "Isabel Campbell & Mark Lanegan. Nice. #splendour" during their set, so I must have liked it…
Gomez
(McLennan 8:30-9:30pm)
This was a show I'd been looking forward to for some time. I'd not seen Gomez since Splendour 2002, and although they've toured a fair bit since then, I never seemed to make it to a show.
Gomez seem to have about a million albums, so I wasn't surprised that I didn't know a lot of the set. The definite highlight was hearing How We Operate. I'll definitely be making the effort to go to a venue show next time they're in town.
Thievery Corporation
(Mix Up 9-10pm)
Had a quick dance to Thievery Corporation which was grand- then headed back to camp for a rest and drinks top-up. I had planned to go and see Regina Spektor at this point but stayed back at camp for a while having a few drinks and chats.
Pnau
(Mix Up 10:45-11:45pm)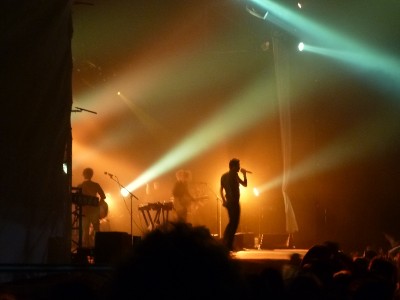 We had a spectacular dance to Pnau. Earlier in the weekend, the theory had been put forward by one of the compadres that the P in Pnau should be silent, grammatically speaking. The theory seemed sound at the time, but now, with the benefit of hindsight, I'm not so sure.
In the middle of Pnau, we decided to head up the hill to see some Jane's Addiction, but went back to Pnau after three songs and finished the night there.
Jane's Addiction
(Amphitheatre 10:45pm-12am)
Perry Farrel still has the goods as a performer, but as one of my friends remarked later, "it was like watching your father dance at a wedding". That summed it up pretty well actually.
Crowd numbers weren't exactly massive, but everyone present seemed to be having a blast. I was only there so see the two songs I knew (Been Caught Stealing and Jane Says), and as I said earlier, we only saw 3 songs. One of those was Been Caught Stealing, and we figured Jane Says would be the set closer, so decided we could miss it, and went back down the hill to see out (P)nau.
Day 2 wrap-up
One thing I haven't mentioned is how dusty Splendour was this year. It was seriously everywhere, as you can see with these pictures (no, I have no idea whose car that is).
Highlights of day 2 would definitely be Gomez, Pnau, and the mega dance session we had back at camp after the bands had finished…
When we got back to camp, we decided it was party time, so we swiftly became that annoying campsite that pumps out terrible 80's music when everyone else is trying to sleep. We had everything from Jesus Jones to Bon Jovi, and even some interpretive dance to John Farnham's You're The Voice. I just had a look at my last.fm play history (yes, I'm that sort of nerd) and found the playlist. You might need to click on it to be able to read it.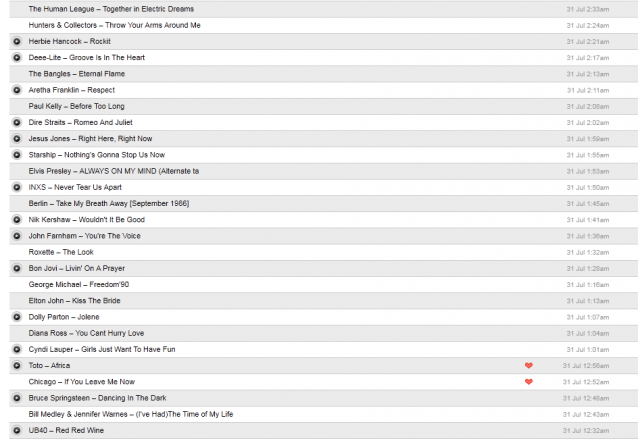 Day 3: Sunday 30 July
During Jane's Addiction the previous night, I'd noticed my camera was being silly. It wouldn't take any hi-res pics or video, and would only save to internal memory. I thought it was busted and wasn't happy at all. So on the morning of day 3, I poked and prodded the thing, swapped memory cards with friends and generally swore a bit, but to no avail.
It was fucked.
It wasn't until I got back to Brisbane that I realised that the dial on the top had flicked over to 'clipboard mode'. Turns out this clipboard mode essentially makes your camera useless for anything except taking really shit photos. Sounds awesome doesn't it? Cheers Panasonic, for that stroke of fucking genius.
Anyway- I didn't take my camera out with me on Sunday because I thought it was buggered, which is a shame, because I probably would have worked out what had happened, or the dial might have flicked itself back to normal mode. Anyhoo- what's done is done.
So yeah, all my photos for the Sunday are from my phone (hence their radtastic shitness), and no video. A real bugger considering I got to go backstage and meet Elbow. Ho hum.
So once again it was a late start today. I'd planned to see Mosman Alder at 11am, simply because their name sounds cool.
I was torn between Grouplove on mainstage at 12, or Young The Giant at McLennan at 12:15. I went with Young The Giant.
Young The Giant
(McLennan 12:15-1pm)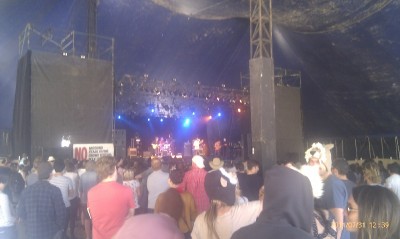 I've been listening to Young The Giant's debut self titled album a fair bit, so knew most of the songs. They were tight, in tune, and generally really bloody good.
The Holidays
(Mix Up 12:30-1:15pm)
I only saw the last 15 minutes of The Holidays set on my way back to camp, but again, they were good. Not spectacular, but far from crap.
Intermission
I took some well deserved RnR back at camp at this point. What was circled on my timetable, and what I could actually be bothered seeing were at opposite ends of the spectrum now. Hungry Kids of Hungary were circled, but I decided resting was a far better thing to do. The only band I'm really pissed at myself missing during this intermission is The Vaccines. I love their album, and am quite bummed I missed them. My own fault entirely. I also missed Liam Finn.
After some medicinal beers, I headed back in for some lunch and the final onslaught…
The Herd
(Mix Up 3:45-4:45pm)
I'm not a fan of The Herd at all, but jeez they know how to pump up an audience. I was passing the Mix Up tent on my way to see Oh Mercy at McLennan. The Herd were definitely captivating. Still not my bag at all, but interesting to watch.
Oh Mercy
(McLennan 4-5pm)
So I don't know anything about Oh Mercy at all, except they were something to watch while I ate a burger. They were really good. Catchy and direct and very accessible.
The Vines
(Amphitheatre 4:45-5:45pm)
It was only about 15 minutes into Oh Mercy's set that I got an sms from an old mate of mine who was in the VIP section. He had sourced an Access All Areas pass for me. Oh joy, this was going to be good. I was of course over the moon as Elbow were on that evening and they were my favourite band on the bill.
I had actually planned to see Drapht now, but seeing as I hadn't seen my mate in a while, and of course having a AAA pass, I decided to watch The Vines at the Amphitheatre. They were great. We watched about half their set from side of stage (where that photo was taken) and rest from the FOH desk. To be honest, I hate The Vines, and I think that mainly stems from how shit they are live. Whatever they've been doing in their recent time off has worked, because I've never seen them tighter than tonight. It was a really good show.
Elbow
(Amphitheatre 6:15-7:15pm)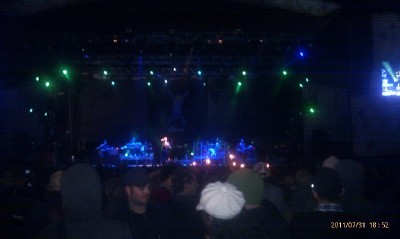 SO! During The Vines set, we went back to the VIP bar for some drink refills, and low and behold, here be Elbow. I was actually star struck. For the first time. Ever.
I've met famous people before, plenty of them actually. But this was the first time I've actually met a band that I really give a shit about and have so much respect for. It was great for those couple of minutes, just being there. We shook hands, I did the star-fucker photo, and then we left them alone. A damned fine time.
We watched the first three songs from side of stage, and during Mirrorball, decided to head out to watch from the FOH desk. The sound was sensational, and although the set was very similar to what I'd seen the previous Wednesday in Melbourne (albeit shorter), it was absolutely flawless. Tower Crane Driver, once again took the cake. I could listen to the crescendo in that song a million times over and never get sick of it.
Virgin Mobile did a live stream from Splendour, and the Elbow part is still available to watch (hopefully forever)- go here and watch The Loneliness of A Tower Crane Driver from 8:00. The crescendo I'm talking about starts at around 11mins. My only wish from the live stream is if the shot had have been from the front of stage as the lighting was brilliant building into that part.
There weren't that many people at the beginning of the set, but the crowd grew steadily throughout. I'm sure there were a massive number of people who'd never heard of Elbow, as they don't get that much radio play in Australia. Hopefully that set got them a few thousand more fans.
I can't speak highly enough of Elbow. The intricacies and dynamics of their music is indescribable. And Guy Garvey's lyrics are something else entirely. No other band on the planet makes me feel the way this band does.
The whole set was thus:
The Birds
The Bones of You
Mirrorball
Neat Little Rows
Grounds for Divorce
The Loneliness of a Tower Crane Driver
Lippy Kids
Open Arms
One Day Like This
Friendly Fires
(Mix Up 7:15-8:15pm)
After Elbow were done, we went backstage again for a few drinks and then I reluctantly handed my AAA pass back and headed back out to camp to refill my hip flask. On the way through, I passed by The Friendly Fires at the Mix Up stage. In my original game-plan, I'd wanted to see these guys, but when the timetable came out, they clashed with Kaiser Chiefs. Anyway, I had a quick dance to Friendly Fires, and then kept on my mission back to camp.
Kaiser Chiefs
(Amphitheatre 7:45-8:45pm)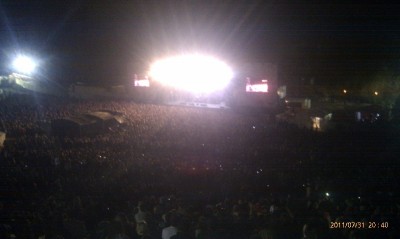 I decided I was going to stay at the lower part of the festival and go back to Friendly Fires, but then got an sms from one my crew saying they were locking down main stage, the same way they did for Florence and The Machine last year. I knew I didn't want to miss Coldplay, so decided to do a mad dash to the Amphitheatre. By the time I got there, the pit had indeed been locked down so I had to go the top way. That photo to the right is of The Kaiser Chiefs as I came over the hill. Needless to say, the crowd had swelled since Elbow.
I only caught the last Kaiser Chiefs song which was Oh My God. I managed to find my friends, and we skillfully scaled down the hillside to make our way to near the front for Pulp.
Pulp
(Amphitheatre 9:15-10:15pm)
I hadn't actually planned to see Pulp as they clashed with Cut Copy. As I said before, I didn't want to miss Coldplay and also wanted to be with my crew.
Pulp were utterly brilliant. Disco 2000 went down like a house on fire, and Jarvis Cocker was his charming self. At the end of the set, he said that this may be the last time Pulp play in Australia. Whether that means they're breaking up, or just couldn't be bothered flying halfway around the world again is anyone's guess.
They closed with Common People, of course, which sent the crowd absolutely batshit.
Coldplay
(Amphitheatre 10:45pm-12am)
I've always had a soft spot for Coldplay. When Yellow was first released back in 2000 or 2001, I remember seeing the video on Rage with my then girlfriend (now wife) and both of us remarking that this band were good, and that they sounded like they'd be more than a one hit wonder (little did I know at the time they were already massive in the UK).
I remember seeing them at the 2001 Big Day Out in the afternoon (around 2pm from memory) and liking muchly. I then saw them 2 years later at Splendour 2003 and totally lost my shit. I was looking forward to seeing this show with one friend in particular (for arguments sake, let's call her Mel) as she was with me as we lost our shit together at the 2003 show. Unfortunately, we got separated during the manoeuvres to get to Pulp, but we were in sms contact. Everything's Not Lost is the song that I remember having a particularly emotional time with Mel in 2003 and Coldplay's performance of it this year was no less passionate.
The whole set was sensational with hit after hit (as well as a few new ones I didn't know). The real mindfuck was Fix You. Chris Martin sang Amy Winehouse's Rehab over the first few bars. He looked truly emotional while doing it, and there were more than a few tears shed in the audience (if you're reading this some way into the future, Amy Winehouse only passed away a couple of weeks ago). Fix You was insane- fireworks- the whole 9 yards.
Virgin Mobile also did a live stream of the Coldplay set, as well as Kaiser Chiefs and some others, so go to http://www.youtube.com/virginmobileaus to see if it's still there.
Day 3 roundup
Overall, I would safely say, without doubt, that this was my favourite Splendour yet. The lineup was exactly up my alley, the beer was cold, the company was great, and the rain stayed away (and I met Elbow).
Splendour seems to be the one weekend every year I get to catch up with my most like-minded friends. Especially now that I've been living away from Brisbane for almost 5 years, the weekend seems to hold a little more importance than just going to get fucked up watching a few cool bands. Yeah, it costs an arm and a leg, is a pain to get to, and the recovery is always horrendous, but it's so worth it.
There are people who I would class as some of my closest friends, and I rarely see them except for Splendour weekend.
I also had some old acquaintances that turned into new friends. There's a core group of around 5 of us that go every year. Each year, the crew gains some and loses some. Last year, two crews joined to make one massive one. I knew these people from around the place (parties etc) and we chatted a bit at last years Splendour. This year though, I really got to know them well. I experienced Mogwai with some of them. I danced my ass off to DJ Shadow with some of them. I laughed at Jane's Addiction with some of them. I rediscovered Pulp with some of them and I learned new things and hopefully passed on a bit of me to them as well. I thank you dear crew, old and new (you know who you are), for helping make this years Splendour the best one yet.
Until next year…
Did you see Splendour In The Grass @ Woodfordia, Woodford (Fri 29 Jul 2011 – Sun 31 Jul 2011)? So far, 87 people have commented, why don't you too?