Elbow @ The Forum, Melbourne (Tue 28 Oct 2014)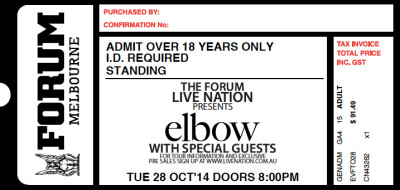 What more can I say, other than how stoked I am to get to see one of my favourite bands twice in one week. Even though the set tonight was the same as when we saw Elbow at The Sydney Opera house a few days ago, it was still a completely different show.
It was Albertron-the-brother-in-law and myself for tonight. Wifeinator was resting up at home being almost as pregnant as someone can be before suddenly becoming a parent.
I was glad tonights show was at The Forum. Now that The Palace has sadly been closed for demolition, there aren't that many standing venues that aren't just a box (eg: The Corner, Hi-Fi, Howler, Billboard etc). The Forum is a beautiful room (if not a little weird) so it was nice to be here and not a box with a PA. It's also on my tram line, so yeah, convenient too.
After a quick burger and beer at Beer Deluxe, we got to The Forum in time to catch the support, Playwrite, whom we missed in Sydney.
They were pretty damned good- their last song in particular was fabulous with it's percussive groove. Some songs seemed to not really go anywhere, but for the most part I really enjoyed them. Their drummer in particular had a quiet class about his playing. Although labeling a band as 'middle of the road pop' (which is exactly what I'm doing), is not a negative- it is what it is. I'd say the nearest comparison I could draw would be to Fanfarlo, who are up there as one my favourite bands- so 'middle of the road' isn't a bad thing- I guess you could translate it to mean accessible pop that doesn't have a heap of light and shade…. or something.
You can say what you want about Elbow, but if nothing else, they're punctual. As with the show in Sydney, they came on stage dead on 9pm, as advertised.
Charge is a song that I've not really gotten very into in my listens to The Take Off and Landing of Everything, but now hearing it live twice, I can't get it of my head. It's a creeper of a song and it's turning into one of my favourites off the album (after New York Morning of course).
It's amazing how staggeringly good this band are- Guy Garvey was his outstanding self, quipping at the audience and making some of the best parts of the show the between-song banter. He acknowledged that most of the font row had been at multiple shows for the tour, which is no doubt a great feeling for those truly die-hard fans.
I was especially happy tonight to have a decent view of Richard after not being able to see any of his drumming at The Opera House due to Pete's bass rig. Seeing his intricate style is a sweet thing to see for a drummer- particularly songs like New York Morning where the drum pattern itself doesn't seem so complex- but when you really listen to what's going on, it's quite mind blowing- and then seeing it (including the hat-flick that is my favourite second of that whole album) just makes it so much better.
Reference to the 'hat-flick' be here:
@saminatorAU Cheers mate, top start to my day that!.

— richard jupp (@Juppelbow) March 27, 2014
I also never never knew that Richard played the piano part that keeps the beat in The Night Will Always Win until tonight. I always thought that song was about a break up, but after Guy's introduction tonight, I looked it up and it's actually about the death of Bryan Glancey, a friend of the band. Such a beautiful song.
Although the other members of the band rarely say anything, and certainly don't try and steal the limelight be doing solos standing on a foldback wedge, they're extremely present, and it's more than obvious that every member is profoundly good at what they do. Elbow is definitely a band that's greater than the sum of its parts, of this there is no doubt.
Sometimes for me seeing live music comes with a tinge of sadness, especially when seeing a favourite, like Elbow. Being an ex (some would say failed) musician, it can be hard seeing and enjoying music. I know that may sound odd to most, but I guess if you can imagine having a girlfriend or boyfriend that you were totally in love with, and for reasons beyond both your control, it just didn't work out. But you still see each other whenever you can, because ultimately, you love each other. You know you can never go further than just hanging out- you'll never marry, have children and grow old with that person. Being a failed muso can sometimes be a little like that when you're seeing amazing live music. As enjoyable and life affirming as it is, it can also be bittersweet. Sad eh? At least I can sit in the knowledge that I got further than many and that my memories of my 20s playing music and touring are some of my finest. Now nudging the wrong end of 39, at least I've got more more memories than what-if's, so it's not all bad. And arguably, if I'd kept going with music I'd not be where I am today in my career, or married, or having my first child, or own my own home. Don't get me wrong folks- life is good. It's better to have loved and lost, than to have never loved at all- or that's what they tell me anyway.
Anyway- on with the show.
At Saturdays show in Sydney, it was The Birds that really picked up the crowd and got everyone off their seats. Although tonight was a standing venue, it wasn't until Grounds For Divorce that everyone really picked up and started moving. The set is beautifully curated, although I can't help but feel it takes a little too long to really ramp up. Maybe Neat Little Rows from Build A Rocket Boys!, or Station Approach, Forget Myself or pretty much anything of Leaders Of The Free World for that matter would be nice in their chaps?? That would mean Guy having to play guitar which hasn't happened for along time, which is interesting too (well I think so anyway).
My Sad Captains is a lovely first set closer, and again, seeing Richard with his gargantuan wood blocks was great- such brilliance in it's simplicity – that's Richard Jupp, folks.
And the encore closers- Lippy Kids and One Day Like This. Such classic songs.
I was very tempted to go to last nights show as well (I'm writing this on the 30th- 2 days after this show) but couldn't manage it due to work issues, time and money. Every time Elbow tour I tell myself I'm going to go to Brisbane and see them at The Tivoli again, but once again for this tour, it didn't happen. I've seen multiple shows on the last few tours, and seeing them at The Opera House as well as The Forum was truly exceptional. Next time I'll definitely make it up to Brissie as well to relive the first time I saw them in 2007.
Some more pics of the show below, and if you haven't already, feel free to have a read on what I had to say about Sydney's Opera House show on Saturday, or any of the Elbow shows I've been to for that matter.
Until next time chaps, yours truly,
Saminator.
Did you see Elbow @ The Forum, Melbourne (Tue 28 Oct 2014)? Tell us about it