Meredith Music Festival @ Meredith Supernatural Amphitheatre, Meredith (Fri 13 – Sun 15 Dec 2013)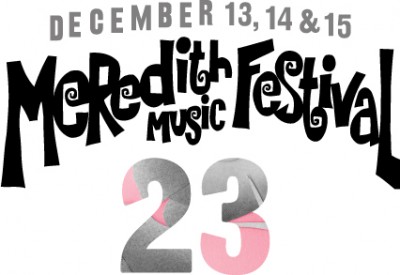 It's mid December once again and in amongst the craziness of all the Christmas parties and work deadlines comes one of my favourite events of the year: The Meredith Music Festival.
After a 6am departure from Melbourne, we finally got through the gates at around 10am and went straight to the spot we've camped for the last few years.
It's always hard writing about festivals as so much has been packed into those few days. It's especially hard when Meredith was in mid-December and it's now early February (shame on me!)
After a relaxing morning setting up camp and having a nap, we wandered down to the stage to see Deerhunter. They were pretty good, and an enjoyable first act for us.
Throughout the weekend, my highlights were World's End Press, Brian Jonestown Massacre, and The Bamboos, with special mention going to both Helmet and Nile Rodgers for being some of the best live bands I've encountered.
For the negatives, Spiderbait were boring as batshit and seemed to really miss the mark this time. Normally they're such a great festival band, but this time around, it just wasn't there for some reason. The Melvins were also particularly awful. Tranter was a poor choice to follow Nile Rodgers too- Tranter's a great DJ, but seriously, the last thing I want to hear after a Nile Rodgers set is Kanye West.
The weekend itself was grand- catching up with old friends and new, as well and the usual excesses that come with a 3 day camping festival. And unlike other festivals like Splendour In The Grass, it's cheap, close and you can bring your own beer. Really, you can't get much better than that.
Download the Meredith Music Festival Pocket Companion 2013
Did you see Meredith Music Festival @ Meredith Supernatural Amphitheatre, Meredith (Fri 13 – Sun 15 Dec 2013)? Tell us about it