John Waters – Looking Through A Glass Onion @ Crown Casino, Melbourne (Sat 18 Jan 2014)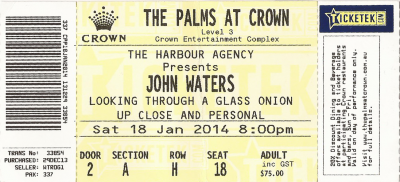 "Do you want to see Looking Through A Glass Onion? We think it's about John Lennon."
That was the call I got from my mother a couple of weeks ago. To put this is context, we live in Melbourne (obviously), and my parents in Brisbane. My sister also lives in Brisbane so they see her quite a bit. My brother lives all over the world, and is currently living in Tajikistan, but over the last few years has lived in quite a few other countries. Mum and dad travel a fair bit, and will quite often go and see him and his family for holidays. Pretty good deal really- great excuse for a holiday and they get to see their son and grand-kids at the same time. Why the family history you ask? Because quite often, mum and dad find it hard to find a reason to visit Melbourne. Obviously we're here, but lets be honest, sometimes that's not really enough to warrant coming down more than once or twice a year, especially when we go up there a few times a year.
So it was decided, mum and dad would take the treacherous journey on Qantas down to the murky depths of Melbourne. Unfortunately, it was a heat wave while they were here so the majority of our time was spent indoors while the sun blazed a scorching 45ish C outside.
Anyway, enough about the family- onto the show.
I'd not heard of Looking Through A Glass Onion before, although obviously knew of John Waters. He's on the telly all the time and he also played Pontius Pilate in the 1992 production of Jesus Christ Superstar.
It was, in a word, fascinating. Looking Through A Glass Onion was essentially Waters acting as Lennon, singing various Beatles favourites and narrating the journey of the band, as well as Lennon's solo career. Although I must admit that sounds awful (I was expecting the worst when I read about it), it's nothing like what I'd imagined (a poorly put together covers tribute to one of the greatest bands in history)- and was in fact extremely tasteful and very well done. Have a look at the promo video below if that really makes no sense:
The show we saw didn't have a full band, just Waters on vocals and guitar as well as Stewart D'Arrietta on piano. From the few clips I've seen of the full band performance, I think we got the better deal.
If you see the show passing through your town, go and get a ticket- I reckon you'll like it.
Oh, and my parents loved it too.
Did you see John Waters – Looking Through A Glass Onion @ Crown Casino, Melbourne (Sat 18 Jan 2014)? Tell us about it