Sweet Jean @ Northcote Social Club, Melbourne (Sun 19 Jan 2014)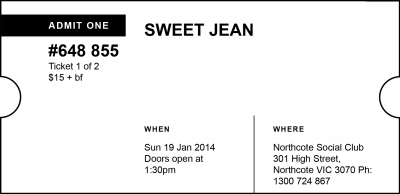 Sweet Jean are a band that as much as we've wanted to see live, we've never managed to do so until now. I used to work with Sime Nugent a fair bit years ago, so seeing him live again in this duo was lovely.
The on stage banter was hilarious, and the chemistry between Nugent and Alice Keath was just like watching and old married couple, but funnier (they are actually a couple).
The set was an excellent rendition of the Dear Departure album, with some new (and quite haunting) new ones as well. The set closer was Shiver & Shake before an encore of The Motels classic, Total Control.
We'd planned to go to The Riverboats Festival next month to see Sweet Jean, The Cat Empire, Tim Finn and a host of other amazing bands, but unfortunately it clashes with Bruce Springsteen, and unfortunately for everyone at Riverboats, nothing's stopping me from seeing Springsteen again.
Did you see Sweet Jean @ Northcote Social Club, Melbourne (Sun 19 Jan 2014)? Tell us about it