Frightened Rabbit @ The Hi Fi, Melbourne (Wed 5 Feb 2014)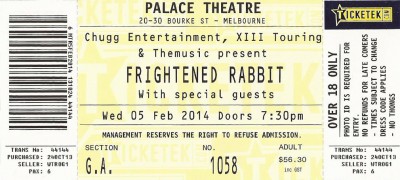 Going to a Frightened Rabbit gig is really more like group therapy than a rock and roll show. There's really no other way to explain it.
Sydney's Gang of Youths opened the night and did a good job getting the audience primed. Solid pop and rock songs, slightly derivative, but really of no-one in particular, if that makes sense? Elements of The Cars, early U2 and a hint of Pulp and a side dash of The Shout Out Louds. If U2 had listened to The Joshua Tree while they were recoding Boy, I think they would have come out with something like this.
The singer, sporting a look somewhere between Jeff Martin of the Tea Party and Jon Snow, had the rock swagger of someone who knew what they were doing and has every intention of playing larger rooms that this.
This gig was originally slated for The Palace Theatre, with a capacity of around 1800. The move to The Hi-Fi was last minute, and being that the gig didn't sell out and the Hi-Fi's capacity is a much smaller 800ish, one can obviously assume the ticket sales were much lower than anticipated. Maybe it had something to do with two sellout shows at The Corner less than a year ago?
Interestingly, Youth Lagoon played the same night and were originally booked to play the Prince Bandroom (900 capacity) and ended up at Ding Dong Lounge (400 capacity). Too much music saturation this early in the year? The Big Day Out is currently all over the news for losing squillions of dollars with much smaller numbers than were hoped.
Anyway- onto the show. The set was as fabulous as expected, with Scott as passionate as ever and the band as tight as I've seen. The band seemed to have more energy than the Corner show in May last year.
The usual part of Scott playing a few tracks alone and acoustic was marred by his statement that it would be a long time before they're back in Australia. Hopefully this isn't due to tonight's poor attendance, but it probably is.
At around two hours, the set was full of most of everything I'd wanted to hear, and then some. Hopefully it's not too long before they're back, although I'm not holding my breath.
Did you see Frightened Rabbit @ The Hi Fi, Melbourne (Wed 5 Feb 2014)? Tell us about it