The National – Mistaken For Strangers film launch (Melbourne)
Getting tickets to this was pure luck- I just happened to be looking at Facebook on my phone while waiting for my lunch one day when I saw the announcement pop up on The National's Facebook feed. I immediately bought two tickets and went about consuming my meal. By the time I got back to the office some 20 minutes later, it, and the other two screenings had sold out.
We'd watched The National's live stream from the Sydney Opera House the night before, and were pretty excited about our front row seats for the Melbourne show that night. It was all a very National weekend, and this screening would top it off.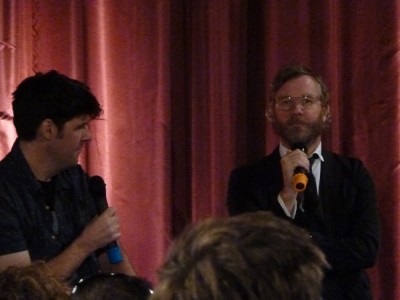 The movie itself really has little to do with the band, and is one of the most personal documentaries I've seen. I was expecting more of a concert film type of thing- or possibly more of a biopic centering around the band, but it was neither and was so much better for it. The brief rundown is that Tom Berninger (Matt's brother) goes on tour with the band to help out, so he decides to make a documentary about the band. As it turned out, and as Matt explained at the Q&A after the screening, the film turned into more of a doco about Tom and his struggles with his brothers success, as well as his own demons.
The film was entertaining, and does offer a glimpse into the touring life of a band that isn't that public about their private lives. The Q&A with Matt afterwards was extremely insightful as he explained how the film came to be. As I said before, it was originally meant to be about the band. After Matt's wife (Carin Besser) viewed all the footage, she floated the idea of changing the films direction to focus more on Tom than Matt. It's a raw look at two brothers and how they relate to each other. With a sizebale age gap, and the fact that Matt left home when Tom was 9, means that the two of them really didn't get to know each properly as adults until that tour.
Tom's agreement to show much of the footage shows a man who is far more comfortable with himself than when the filming actually took place.
Definitely a must see for any fan of The National.
Did you see The National – Mistaken For Strangers film launch (Melbourne)? Tell us about it