Splendour In The Grass @ Belongil Fields, Byron Bay (Sat 19 Jul – Sun 20 Jul 2003)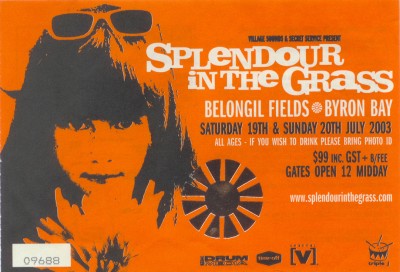 So yeah, this Splendour was pretty surreal.
That year I was the only one of our crew who was camping. Wade and Mel (you remember them from Splendour 2002 don't you) and Mel's mates (including Vic from 2002) all decided they'd stay at an apartment in Byron Bay.
So it ws just me in the campgrounds. With 12,000 or so strangers.
As the weekend went on, I met more and more people, especially once the bands were all said and done. The rains came in 2003, and they didn't stop. I found it quite ironic that one of the reasons the others decided to stay in town was so they could have a hot shower and sleep in a comfortable bed. Don't get me wrong- I like that stuff too, but as it turned out, those cats had to walk a few kilometres to their unit in the pissing rain, while I just climbed into the faithful E20 and went straight to sleep under 4 doonas. Snug as a bug in a rug with the rain pattering on the canvas.
Even though she couldn't come, my lovely lady-friend (now wife) laminated a timetable for me that year. Turns out, with all that rain, it was a bloody good idea.
I 'discovered' Decoder Ring on the Saturday. I was walking to main stage to see Veruca Salt, and on my way past the Mix-Up tent heard some simply sensational music. I couldn't not see more, so I went in and had a great dance to Decoder Ring. I had no idea who they were but now see them at festivals whenever they play.
After Decoder Ring I went to the Supertop and saw Veruca Salt. 8 Arms to Hold You is an excellent album. I like it a lot. American Thighs was also a great album. I guess what I'm trying to say is that I was quite looking forward to seeing Veruca Salt. They were crap. No, they were worse than crap. The playing was out of time and the band sounded like they just couldn't give a shit.
The rest of the day progressed on, and although I can't remember exactly, I'd say I went and saw The Music and Living End ofter Veruca Salt. I was pretty smashed by the time Powderfinger came on, and I remember texting my lady-friend "pvdgr!" or something like that. Do you know hard it is to sms when you're that drunk and cold? Anyway, I'll be honest- I don't remember texting that at all, but I do remember her showing me the text when I got home a few days later.
At the end of that night I scared the shit out of myself by going to see "The Ring" in the tinshed cinema. I had a good wander around the campgrounds, met some people, talked some shit and eventually cruised off to bed in the van.
Sunday was slow (and wet) to start, but I got there eventually. I recall Placebo being rather good.
Coldplay were definitely the highlight of my weekend, and years later, I still rate that performance as being one of the best shows I've seen. They opened with Politik and just went straight up from there. Everything's Not Lost was simply stunning, and Mel and I had a fabulous dance (and a cry) when it was played. I remember Mel so clearly yelling at me "Why am I crying Sammy, I'm so fucking happy right now?!" It was a lovely moment.
SO anyway, my deal old Grandfather (top bloke- fought in the war and all that) passed away earlier that year. "What a Wonderful World" by Louis Armstrong was the closing song at his funeral. When Coldplay launched into that song at the end of their set, I was a mess (literally too- I was covered in mud, as was everyone else). Love them or hate them, Coldplay's set at Splendour 2003 has gone down as one of the best live shows I have ever seen. And it's not just me that says that, I've spoken to quite a few people who cannot stand the band, yet agree that show was pretty special.
Anyway- that was Splendour 2003 for me. In hindsight, I'd say that was one of my favourite Splendours for a few reasons. Camping by myself was actually a hell of a lot of fun, and rather than just go back to camp for a few drinks as usual, I wandered about meeting people. The Coldplay/What a Wonderful World thing also had an obvious impact as well.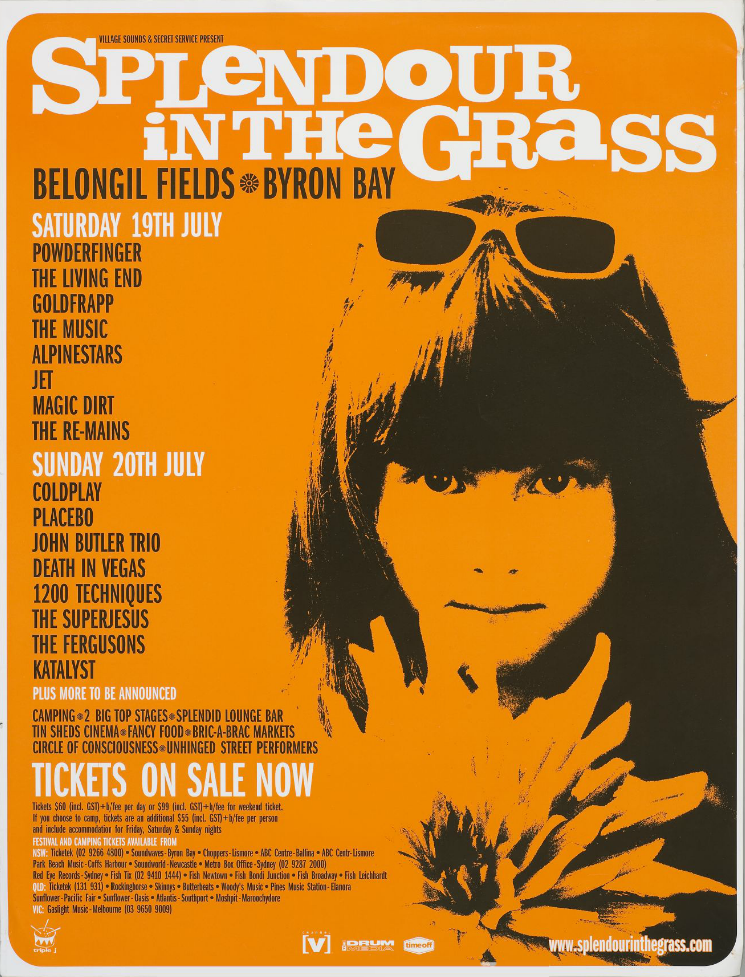 Did you see Splendour In The Grass @ Belongil Fields, Byron Bay (Sat 19 Jul – Sun 20 Jul 2003)? Tell us about it