Splendour In The Grass @ Belongil Fields, Byron Bay (Sat 21 Jul 2001)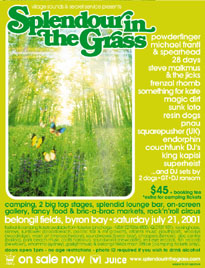 You have no idea how excited I was when I first saw the Splendour ads on the back pages of the Brisbane street press in 2001. Finally someone had figured out that a festival in the north of the country that WASN'T in October or January was a good idea.
My friends and I bought our tickets. We polished up our campervans and tents and made our way to Byron for the first Splendour in July 2001.  I remember drinking A LOT.
It was my new campervans first festival outing, and it was happy.  My 'brand new' 1976 Nissan E20 loved the drive, although it did end up taking much longer than expected due to the never-ending roadworks on the M1, and an unplanned stop at Supercheap because we realised we didn't have any 12volt lighting equipment.
The feeling in the campsite that year was nothing short of electric.  By the end of it, all anyone could say was they hoped there'd be another one, and wouldn't it be awesome if it went for another day.
Highlights: hearing Powderfinger soundcheck as we cooked our diner on the Friday night, Squarepusher, Magic Dirt, Something For Kate.
Lowlights: The stubbie coolers sold out on the Friday night before the festival had even started!
Did you see Splendour In The Grass @ Belongil Fields, Byron Bay (Sat 21 Jul 2001)? Tell us about it