My Morning Jacket @ Palace Theatre, Melbourne (Wed 4 Apr 2012)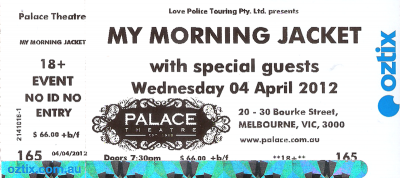 When My Morning Jacket's Melbourne show was announced, I'd already bought tickets to see The Pogues on the same night at Festival Hall. After much deliberation, I sold the Pogues tickets and bought these ones. Not long after that, Blitzen Trapper announced a show, on the same night. meh. I decided to stick with My Morning Jacket. Out of the three possibilities for the night, I'd not seen any of the acts, and figured I was most keen to see My Morning Jacket as I knew more of their material, and I also didn't know anyone going to The Pogues or Blitzen Trapper.
Unfortunately I missed Dawes, but heard them clearly from the front of the venue as I waited for my friends. I had their tickets so couldn't go in. Dawes sounded great, and I'm bummed I missed them. Oh well, next time.
When Jim James of My Morning Jacket came on stage with his Darth Vader-esque sampler hanging around his neck, it was clear we were going to be entertained. It took a while to get him talking, but once he did, he was very amusing. He also seems to hold a fetish for singing with a towel on his head.
The set was full of everything you'd expect, and the only track I really missed was Highly Suspicious, which I didn't really expect to hear to be honest. The sound seemed to start a little muddy, but by the third or fourth song, it was in full force and was excellent. The bass tone in particular was lovely.
Not being a die-hard fan, I was ready to bail after an hour or so, but they kept playing, so I stayed. We were down on the floor and it was damned hot down there. A few missions to the bar nearby helped to re-hydrate, but it was getting mighty uncomfortable mighty quickly.
The set was very long, and when it became clear it wasn't going to end anytime soom, I decided to head to the bar upstairs. Good move, as I ran into some other friends and got to see the band from on high. I don't usually go upstairs at the Palace, but it is a great view. I remember heading up there during the Jesus Jones and Wonderstuff show a few months back as well. That show wasn't nearly as full so you could get a good view anywhere.
All in all, I was glad I went. I haven't heard from anyone who went to The Pogues or Blitzen Trapper, so don't know if I missed a different great show by being here. If you were at one of the other shows, or this one, I'd love to know what you thought.
Usual pics below, and don't forget to leave a comment about the show (or this 'review').
Did you see My Morning Jacket @ Palace Theatre, Melbourne (Wed 4 Apr 2012)? Tell us about it