David Byrne & St Vincent @ Arts Centre, Melbourne (Mon 14 Jan 2013)
To say I'd been looking forward to this show for a while would be a massive understatement. I grew up listening to Talking Heads and they've been one of my favourite bands for the last 25 or years or so. I first started listening to them when I was about eleven years, old, so in the mid 80's. Little Creatures had just been released and one of my school friends, Stephen, was really into them. I remember we used to go to his house after school in Toowong, Brisbane and put the record on and listen to it over and over. As one of us saved the money, we'd buy alternate albums from their back catalogue until we had them all. I remember when I bought '77 (their debut album) and it became my favourite record for a very long time. I still have that copy, as well as all the others I bought at that time.
Not long after that, in 1986, True Stories was released and it was immediately added to both of our collections. Naked (1988) was a sonic move away from the typical 'Talking Heads' sound, but was really the beginning of David Byrne's solo career, as that album sounds more like a Byrne record than a Talking Heads release.
I've been a passing fan of St Vincent for a little while. While I don't love her solo stuff, I certainly don't dislike it either. I've never bought one of her records, but if she's being played on the radio, I won't change station.
When David Byrne and St Vincent released the Love This Giant album, it took me a while to get into it. It's got some great tracks, but it doesn't sound like a David Byrne record, or a St Vincent record- which I'm guessing was the intention.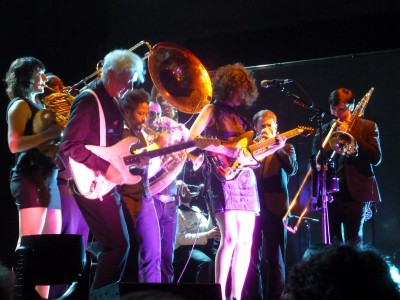 We'd seen David Byrne solo twice before, once in Brisbane in 2005, and then again at the Sydney Opera House in 2009. Coincidentally, my father in-law is a big Talking Heads fan as well, so he joined us for this show (as he did in Sydney in 2009).
Well, the gig was sensational. We were in the third row, which was great for the view, but the sound was lacking. Albertron The Brother In Law and a friend had got last minute tickets and were at the very back of the auditorium. They said the sound back there was great, and the view not so bad being that the room has a sloping floor (like any self respecting theater should). So- a note- if you're seeing a gig at Hamer Hall in Melbourne, you're better off sitting a little further to the back for the sake of good sound.
David Byrne looked his normal quirky self, and St Vincent looked sensational. The brass band were spectacular, and the re-imagining of some of the older songs (Talking Heads in particular) from guitar based rock, to horn based was fabulous to hear. The set was obviously primarily made up of the duo's songs, with sprinklings of their solo stuff (and Talking Heads) in between. I only knew a couple of the solo St Vincent songs, but obviously all of the Talking Heads and David Byrne ones. Since seeing this show, I'll definitely be making more of an effort to see and hear more of St Vincent.
I was sure that when Burning Down The House was played, that that was the end of the night, but we were treated to a second encore containing Road To Nowhere.
All in all, it was an excellent night, and I'm counting the days to when David Byrne returns to Australia once again.
Did you see David Byrne & St Vincent @ Arts Centre, Melbourne (Mon 14 Jan 2013)? Tell us about it