Marc Maron @ Palais Theatre, Melbourne (Fri 16 Oct 2015)
It's not often you live through a defining period in your life and know it at the time. I'm not talking about having a kid- because that's obviously a defining moment. It's definitely defining me daily.
I'm talking about moments like when I went to Harlequin Records in Indooroopilly with my sister when I was a kid. I bought Thriller by Michael Jackson. She bought The Unforgettable Fire by U2. Both of those albums were played constantly in our house through the early 80's. That period was a defining moment in my young life and there's no way I could have known it at the time. Â Without those two records, my life would be vastly different to what it is now. Â Listening to Marc Maron's WTF podcast for the last few years has become defining, and will be until either he stops talking, or I stop listening. Most likely the former.
Most mornings I get up and walk for anywhere between 30 mins to 2 hours with my boy. I walk- he's in a pram. As anyone who's been following this blog will know- the boy is 9 months old. He's a fucking champ. He's also a handful. Kids are, that what they're about. Every morning I listen to podcasts as the boy sleeps. There's This American Life, Stuff You Should Know, The Moth, some NPR releases, and of course, WTF with Marc Maron.
I've gotta say, and I know I'm not the first, that many of Maron's conversations in his podcast provide better therapy than my Psychologist who I've been seeing for the better part of half a decade. As followers of this blog will also know, I sometimes find it hard reconciling not 'making it' in the arts. I've joked with my wife that listening to Maron mightn't be the best idea, as I'm listening to a whole lot of people who did 'make it'.  Regardless, the stories resonate, the people are interesting, and Maron is a great listener and talker.  Some of the titbits of life advice that pop out of the podcast can be quite profound. Kids – if you've got a passion- follow it.  It's a fucking cliché but it's true. Follow your dreams, even if they don't pay well.
Dylan Moran was the first WTF conversation I listened to. It was powerful, it was grand. The next episode was Jon Favreau. After that I listened to more, and to be honest, would often skip through Maron's preamble about what was happening in his life and get right to the conversations. After a while though, I'd listen more to the preamble, and sometimes skip the interviews. So many of the artists that I've written about on this blog have passed through Marc Maron's garage. It's a small world after all.
If I had the time, I'd go right to the start and listen from episode 1. As it stands, Maron gets a fair chunk of the hours that I walk for.  Looking through the episode guide and for many, I remember exactly where I was at the time.  Maynard James Keenan saw me through painting my living room to surprise my wife when she went away for the weekend.  Huey Lewis was with me when I picked my wife up from hospital after surgery. Packing up our house for renovations was Rosanne Cash.  The list goes on, but now I'm starting to ramble…..
Southeastern by Jason Isbell is one of my favourite albums, thanks to Maron.
The show tonight was everything I could have hoped for and more. I've listened to a reasonable amount of Maron's standup, and also have hundreds of hours of podcasts under my belt. There were a few parts of tonight's show that I'd heard before in varying forms, but it was fucking sensational to be THERE when being told the story again. Whether it was about The Rolling Stones or reversing back to your house for a left behind beverage, it didn't matter that I knew the punchline. It was just great hearing it straight from the horse's mouth.
After the show I went to the stage and grabbed an autograph. I shook Maron's hand and told him I was a huge fan. It really was a buzz for me to meet the man who honestly has changed the way I think about a lot of things. For better or worse, life after Maron is different.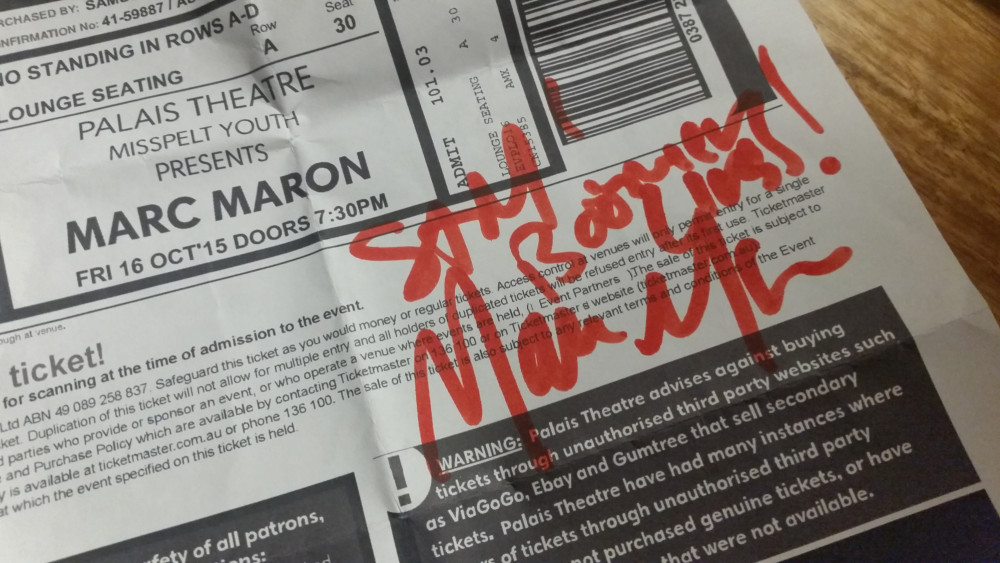 Did you see Marc Maron @ Palais Theatre, Melbourne (Fri 16 Oct 2015)? Tell us about it