Kurt Vile @ The Forum, Melbourne (Sun 3 Jan 2016)
Meredith Music Festival @ Meredith Supernatural Amphitheatre, Meredith (Fri 11 Dec – Sun 13 Dec 2015)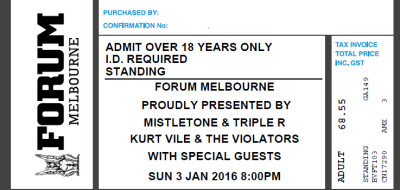 Greetings Vileophiles.
My lovely wife is a huge Kurt Vile fan. I like Kurt Vile. Not as much as my wife.
She loves Kurt Vile.
Anyway, as with all of the shows this year and last, we purchased two tickets in the belief that we'd have a babysitter at the ready for whenever we wanted to rock out. Turns out, nope.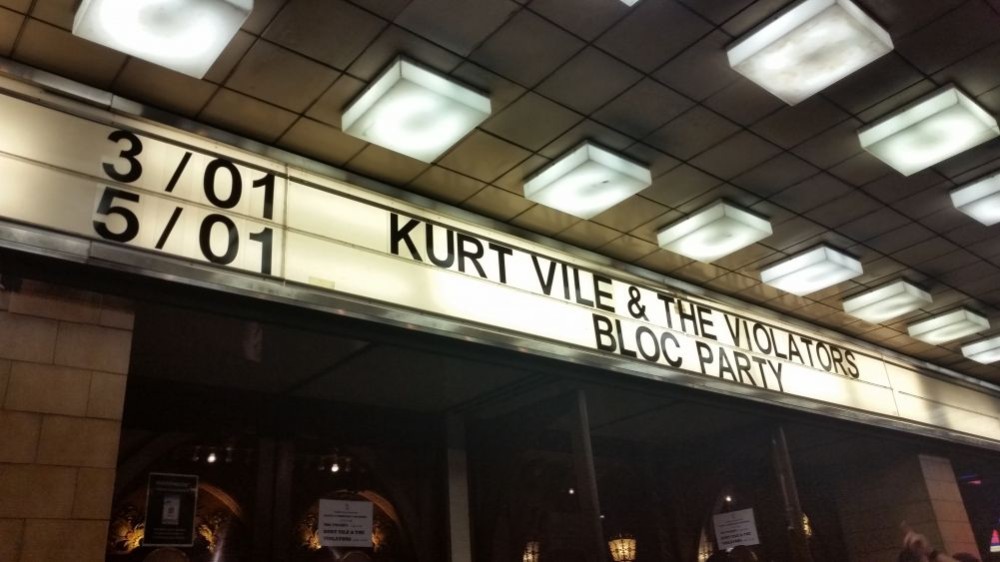 After we realised there was no way Wifeinator would be able to go to the show, I figured I didn't really want to go either. I put the call out on Facebook with little response and then decided to phone a friend. Turns out, Sunday 3 January is a really hard day to get someone to come to a gig with you with at short notice. People are either still away for the Christmas break, or they're heading back to work the next day and have been drinking since 11am to cope.
So off I went, alone.
Good show. And I absolutely love The Forum as a venue. Pretty Pimpin' was way early in the set- maybe second. I thought that was a brave, but good move. Unfortunately no-one has put up a setlist for this gig, but the one from The Sydney Opera House a few nights later looks pretty close, if not exactly the same.
My first exposure to Kurt Vile was at the 2011 Meredith Music Festival. We loved the show and as I said in that article 5 years ago, "I'll definitely see them next time they're in Melbourne". So really, it's quite lucky I decided to go to this show or I would have made myself out to be a liar.
When Wakin on a Pretty Daze came out in 2013 I loved it but interestingly enough, Wifey kinda snubbed it. When his latest album, b'lieve i'm goin down… came out last year, Wifey went bananas for it. I also liked it, but she loved it.
You know how sometimes parts of your life have a soundtrack? I think I could sum up this summer with two albums – Muchacho by Phosphorescent, and b'lieve i'm goin down… by Kurt Vile and The Violators. It would be safe to say that both of those albums were played daily for a big part of the year. To the point that my one year old son starts clapping his hands wildly at the first notes of Pretty Pimpin'.
Being that I was alone at the show I ran around to a few different vantage points and, had I brought a decent camera, would have got some decent photos. Being that I had my below average phone with me, you'll just have to deal with those blurry smudges below.
Oh- and I did have ticket insurance, and for those playing at home- no, you're not covered if your baby sitter falls through, or if your son decides he really can't do without the boob for a night.
Did you see Kurt Vile @ The Forum, Melbourne (Sun 3 Jan 2016)? Tell us about it
Meredith Music Festival @ Meredith Supernatural Amphitheatre, Meredith (Fri 11 Dec – Sun 13 Dec 2015)