Splendour In The Grass @ Belongil Fields, Byron Bay (Sat 22 Jul – Sun 23 July 2006)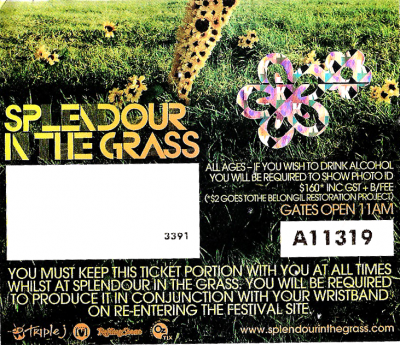 Another fine Splendour In The Grass was upon us. This year, one of my favourite bands at the time, Death Cab For Cutie, were playing, as were Snow Patrol and DJ Shadow.
You can have a look at the timetable below to see what I'd circled. I'm guessing we saw most of those bands, but as we well know, a circled timetable and reality are often from away each other when one has had a few. I remember the rains came in 2006. Not as bad as 2003, but it was still pretty wet, and not in a good way.
What I do remember seeing is Death Cab who were brilliant. We'd seen them the previous Thursday in Brisbane, and that show was a ripper as well.
I just found some crappy video I recorded on my phone:
Check out the chandeliers in the Supertop- how awesome is that? According to the datestamp on the pic below, this was taken during Death Cab's set


Yeah, my camera phone is a beast.
I recall The Grates being excellent. I'm not a Grates fan, but I think this was the first time I'd seen them live and thought the show was pretty impressive.
TV On The Radio were good. I can't remember seeing Mogwai at all, but surely I would have. I do remember missing Augie March though, as we were at Grinspoon (great festival band although I own none of their records and only know the hits) and I remember a group decision involving no-one being bothered wandering to the McLennan stage. I remember we actually went back to camp after Grinspoon to refill hip flasks etc, and went straight to DJ Shadow, entirely missing Sonic Youth. I have no regrets about that decision. Shadow was sensational, and I remember it rained a bit throughout the set.
Memories are hazy for day 2, although Snow Patrol were definitely seen. I had been pissed at myself for 2 years for missing most of Snow Patrol at Splendour 2004, so wasn't going to miss this one. Pretty sure they opened with Chocolate, and closed with Run. I remember recording the crowd singalong in Run and mms-ing it to a friend.
Scissor Sisters were sensational, and it was definitely raining through their set.
I remember dashing out to the campground for a quick refill before going back in to the Supertop for Brian Wilson. On our way back out, there was an older gentleman, probably in his 60's wondering if anyone was leaving for the night, and if he could have their ticket as he desperately wanted to see Brian Wilson. I felt really bad for the guy, as he'd obviously travelled to get there, and had zero interest in anyone else on the bill, so didn't have a ticket. The crap thing was, there were heaps of people who weren't going back in, but this year was Splendour's first year of having names and dates of birth on every ticket. And they were checking them on every entry (we'd have to show our driveers licence along with our ticket). It was an anti-scapling measure that worked (there were zero tickets on ebay in 2006), although it did mean that one couldn't give your ticket away if you wanted to.
Brian Wilson was as you would expect him to be. Brilliant band and very tight with great crowd sing-a-longs. It did seem like he's been wheeled out in his leisure suit, and didn't really sound like he was having much fun, but it was still a good listen. We danced, so therefore I reckon it was pretty good.
Did you see Splendour In The Grass @ Belongil Fields, Byron Bay (Sat 22 Jul – Sun 23 July 2006)? Tell us about it