The Beach Boys @ Rod Laver Arena, Melbourne (Fri 31 Aug 2012)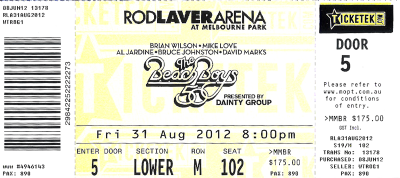 Brilliant. Odd. Sad. All at the same time.
Honestly, I don't know that much about The Beach Boys. Of course, I know a lot of their music (who doesn't?) but as far as band members and releases, my knowledge is fairly limited. I saw Brian Wilson and his band at Splendour In The Grass 2006, and after that show, I guess I just assumed that he sang all The Beach Boys songs. That show had all the hits, and they sounded fantastic, so I'm guessing I'm not the only one.
Anyhoo- my father-in-law is a big Beach Boys fan, and had seen them twice before decades ago.  When this tour was announced, we decided to go, and I'm so glad I did. Before the show, I was formally educated on some of the bands fascinating history, including past and present members, those who had died, and those who had left and come back. Brian Wilson's story in itself is remarkable, and it's hard to fathom how one person could be so talented.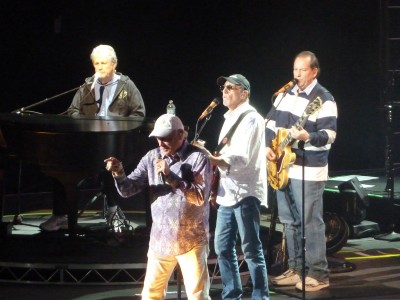 The band's set was massive (as you can see below), comprising of 53 songs, spanning 50 years and countless albums. They looked to be having a great time (Mike Love in particular) and played stunningly well.
Brian Wilson, was, for the most part, looking pretty vacant. It's hard to know whether he was into it, or just out of it. There were moments that he just looked perplexed, and unsure of his surroundings. From the little that I've read today, that just seems to be what he's like live. When we saw him solo 6 years ago, we were quite a distance from the stage so never really saw him except as a blue speck in the distance.
Tonight he certainly looked like a man who'd done a shitload of drugs in his time, and that they hadn't done him that much good in the long run.  Would he have still recorded Pet Sounds if he wasn't out of his tree?  Who knows.
Wilson had moments where it looked like he was having a good time, but they were few and far between. I guess for the most part, he just looked sad, which is, well, sad.  I suppose 'disconnected' is probably the best way to describe him.
It was also difficult to tell is he was actually playing the piano, or if was merely a prop for him to sit behind (apparently he suffers from stage fright).  In the final encore, he got up and played bass in Barbara Ann, but wasn't actually playing it, just tentatively plucking the top string every now and then.  He was also obviously mumbling a lot of his back up parts and I'm guessing he was either low in the mix, or not there are all.  Having said that, when he was performing the main vocals, his voice was strong, and very much in tune.
Interestingly, in an interview with The Guardian only last year, he said he had no interest in playing on the 50 year reunion tour, and that he really didn't like playing with the rest of the band. I guess the cheque for the tour was too big to refuse. There were definitely moments where he looked like he'd rather be anywhere else. If you look at the end of the video below for I Get Around, you'll see that he can't seem to get off the stage quick enough. Maybe he just really needed to wee?
It really was an excellent show. There were some lovely moments, especially when God Only Knows was played using Carl Wilson's vocals from another recording (he died in 1998). They also did Forever with vocals from Dennis Wilson (who died in 1983).
If The Beach Boys were playing again tonight I'd be there.  It really was that good.
Set list
Do It Again
Little Honda
Catch a Wave
Hawaii
Don't Back Down
Surfin' Safari
Surfer Girl
You're So Good to Me
Getcha Back
Please Let Me Wonder
Wendy
Kiss Me, Baby
Let Him Run Wild
Then I Kissed Her
(The Crystals cover)
Darlin'
Isn't It Time
Come Go with Me
(The Del-Vikings cover)
Why Do Fools Fall in Love
(Frankie Lymon & The Teenagers cover)
When I Grow Up (to Be a Man)
Disney Girls
Good Timin'
It's OK
Cotton Fields
(Lead Belly cover)
Be True to Your School
California Saga: California
Don't Worry Baby
Little Deuce Coupe
409
Shut Down
I Get Around 2nd Set
Pet Sounds
Add Some Music to Your Day
Heroes and Villains
I Just Wasn't Made for These Times
Sloop John B
Wouldn't It Be Nice
In My Room
All This Is That
That's Why God Made the Radio
California Dreamin'
(The Mamas & the Papas cover)
Sail on, Sailor
Forever
God Only Knows
Good Vibrations
California Girls
All Summer Long
Help Me, Rhonda
Rock and Roll Music
(Chuck Berry cover)
Do You Wanna Dance?
(Bobby Freeman cover)
Surfin' U.S.A. Encore:
Kokomo
Barbara Ann
(The Regents cover)
Fun, Fun, Fun
Did you see The Beach Boys @ Rod Laver Arena, Melbourne (Fri 31 Aug 2012)? So far, 3 people have commented, why don't you too?