Neko Case @ Corner Hotel, Melbourne (Sun 2 Mar 2014)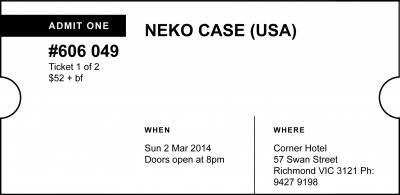 We've been wanting to see Neko Case for a long time.  When she was announced to play the Golden Plains festival, we were dead keen but due to lifes habit of getting in the way, we couldn't make it. This sideshow at The Corner would have to do, and it did damn well.
You know those albums that signify a time in your life? Well Blacklisted by Neko Case is one of those for Wifey and I.  We listened to that album quite a bit in the early 2000's when we were spending a lot of time at the now defunct Troubadour, one of the best venues ever to grace Brisbane. Over those few years I was touring a fair bit so was introduced to a wide range of music that I'd not heard before. Calexico, Lambchop, The Silver Jews & Madrugada were some that spring to mind. As well as Neko Case.
Although we were crammed into the back of the room, we managed to make our way to the sound desk for a reasonable view, and a great listening experience. The set didn't contain as much Blacklisted as I'd hoped for, but let's be honest, she'd put out a bunch of albums since then so I can't complain.
As expected, there was quite a good selection from her latest album, The Worse Things Get, The Harder I Fight, The Harder I Fight, The More I Love You, with the haunting Nearly Midnight, Honolulu being the highlight of the set for me.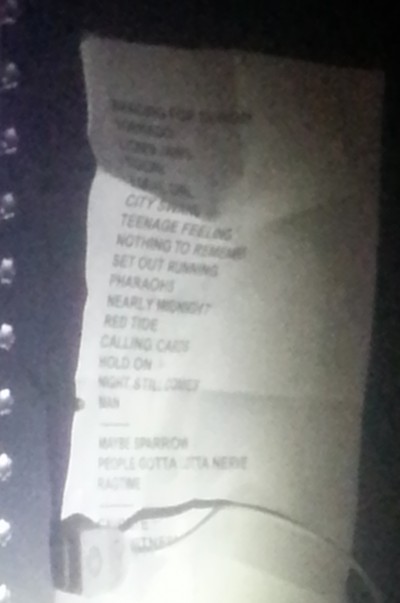 Although the crowd were very appreciative and the show was a sellout, the set was actually cut short. You can see from the blurry pic we got of the setlist that there are a couple of songs that were missed, including a second encore. Not to worry- we had a great time and am very much looking forward to another tour from Neko Case.
Did you see Neko Case @ Corner Hotel, Melbourne (Sun 2 Mar 2014)? So far, 1 person has commented, why don't you too?