Yeasayer @ The Fillmore, San Francisco (Thu 26 May 2011)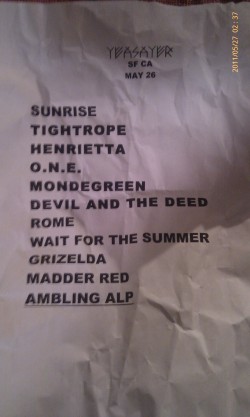 Wow- what a show. First time to The Fillmore and 3rd Yeasayer show. The room is INSANE- I wish we had venues like this back in Australia. Much like the Tivoli in Brisbane I guess, or maybe the Palais in Melbourne (but 100% standing), but so awesome. Big- sight lines from everywhere and the bar staff were so nice.
The Yeasayer show was brilliant. Similar set to what we saw in Melbourne a few months back but with some great new songs in the set. The new songs…. fabulous! Love them!
After the show we hung out for a while and got to meet Ira and Anand. Jeff from The Fillmore is a great guy- not too sure what he does there…. but he was looking out for us and I know he's into sailing. So Jeff- like we said- give us a yell when you're in Melbourne!
Will upload some video in a few weeks when back in Melbourne….
Videos are below the photos…
Did you see Yeasayer @ The Fillmore, San Francisco (Thu 26 May 2011)? Tell us about it