Homebake @ Gold Coast Parklands, Gold Coast (Sun 28 Nov 1999)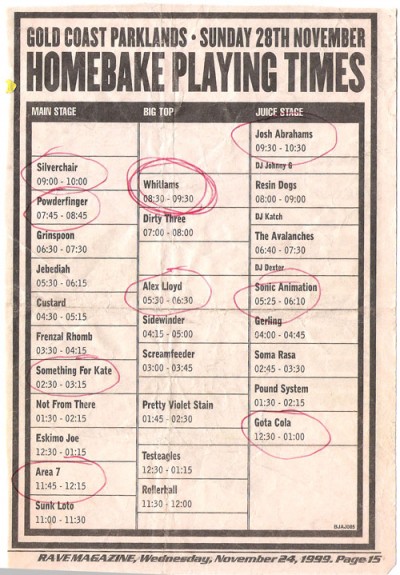 This was a great Homebake. It was my first one, and I loved it and planned to go to many more. As it happened, it was to be the only one I went to (as of 2010 anyway).
It's interesting looking at the timetable for this 11 years later. There are bands I've got circled who I wouldn't even consider seeing now (Area 7- WTF was I thinking?). and others who I obviously missed who I'd see now (Gerling & Grinspoon are two that spring to mind). But this, my friends, is a prime example of why festivals are shit-hot. In 1999 I had zero interest in either Gerling or Grinspoon, and the only reason I do now, is because I saw them at festivals.
I was doing some promotional work for Media Rare (the promoters) so got free tickets to this. I remember I was at the site office at the Parklands a few days beforehand to pick up some stuff and overheard a conversation that I found rather interesting. From memory, it went something along the lines of Silverchair or Powderfinger having some sort of backdrop that took 11 minutes to set up. Due to the time taken for Powderfinger to take down their set, and Silverchair to put theirs up (apparently the backdrop was a late addition), it meant that the original changeover time of 15 minutes, was actually going to be closer to 20. So I'm thinking "big deal, so Silverchair will start 5 minutes later." Apparently, no. The main stage had to be off (no sound, no nothing, nada) at 10pm on the dot, or the council would fine the promoters large sums of money (which no one wants). I imagine it would also impact the viability of the festival for following years. As it turned out, this was to be the last Homebake in QLD, as the promoters decided to only run it in Sydney from 2000 onwards.
The timeframes they were talking were down to seconds (let's call it 18 minutes, 34 seconds for arguments sake). Neither band would budge on their set requirements, and had apparenty rehearsed the changeover a number of times to get the time to as little as possible, so it was decided that every band on main stage would have to either go on a minute early, or cut their set my a minute, so that by the time the end of the night happened, both bands had enough time to pack down/set up without running late. It hadn't quite occured to me until that point how rigid festivals need to be with times.
So I went to this show with my friend Amy- we were both big fans of Powderfinger, The Whitlams & Something For Kate, so were quite impressed with the lineup. I remember I forgot the tickets to this, and the Gold Coast Highway was going through some major roadworks, so it took about 2 hours to get to the venue, instead of the usual 45 minutes. We'd not gotten all the way to the Gold Coast when we realised about the tickets, but it was still about 4 hours from leaving home to getting there. I think we actually missed Area 7.
Now, obviously, I can't remember all the details of this festival as I'm writing 11 years later in 2010. I remember Something For Kate being good, but not great. They didn't seem as tight and there didn't seem to be a fantastic vibe on stage.
My strongest memory from this show is Powderfinger.  According to this bloke, the setlist was:
The Day You Come
Belter
Celebrity Head
D.A.F
America
Already Gone
Boing Boing
My Love
Don't Wanna Be Left Out
Good-Day Ray
These Days
Passenger
Pick You Up
Paint it Black
I can neither confirm nor deny the list, except that These Days, Passenger & Pick You Up were definitely there, they were definitely played together, they were definitely at the end of the set, and they were definitely unreal.
Interestingly enough, I just read that dude's review of Powderfinger's show at the Sydney Homebake, and it mentions the backdrop. Lovely- I didn't imagine it.
I'd recently come out of a pretty bad breakup, and Amy just popped into my life when I needed a good mate who didn't care about the past, and who just wanted to see music and have fun. We met at The Empire in Brisbane after the 1999 Livid Festival. We just started talking, swapped phone numbers and then were pretty much inseperable for about 6 months.
Needless to say, These Days & Passenger are pretty introspective songs, and, as tends to happen, 'spoke to me'. I remember getting a bit teary through These Days. Even though the breakup was definitely for the best, I felt my life had taken a bit of a nose-dive, as I'd 'wasted' a few years of my life with someone who, as it turned out, I actually disliked quite a bit. It was one of those relationships that you come out of thinking "Why the FUCK did I do that??"
But, Amy was there and we had a 'sway-dance' and everything was OK again.  The light was fading at this point, and from the beginning of These Days, to the end of Pick You Up, it went from full daylight, to full dark (there's no such thing as twilight in QLD).   Just as Powderfinger was going into Passenger, a light rain started to fall. Bare in mind that Homebake is in a treeless field in the middle of a Queensland summer, and a Queensland summer day is a hot day. And this was no exception. When that light shower came, it couldn't have been better timed. The lyrical nature of the song, as well as the rain to 'wash it all away', at the time really felt like a carthartic "it's time to start again, I'm leaving this old shit behind- whoever wants to join me: come on, let's go." Having that followed by Pick You Up was pretty special. It took me a while to get into that song, but at this show, it was just fine. Again, the lyrical content was just what I needed.
To this day, that trifecta of songs is one of the most memorable live music experiences I've had. I really want to write more about it, but I can't find the words to do it justice. Powerful shit.
After Powderfinger finished, we went over to see The Whitlams. We had a great dance at that one. For some reason, "Chunky Chunky Air Guitar" had become Amy and I's 'song'. Can't remember why- I think it was on the radio a lot when we started hanging out. Bloody terrible piece of music.
After that I remember having a good dance at Josh Abrahams and then that, my friends, was it.
Did you see Homebake @ Gold Coast Parklands, Gold Coast (Sun 28 Nov 1999)? So far, 3 people have commented, why don't you too?