V Festival @ Centennial Parklands, Sydney (28 March 2009)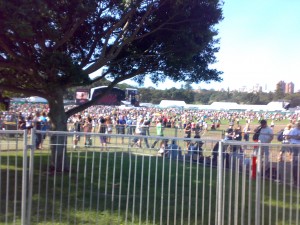 The D0
To be honest, I only saw these guys (and girl) because I went to the wrong stage to see Elbow…. they were pretty good though.
Elbow
I had been waiting for this show since the last time Elbow toured Australia, and it was pretty much the only reason I was at the V Festival.
The rest of the lineup was certainly good, but Elbow was the sauce I needed to expel the cash to go.  I was also recovering from a fairly serious operation on my knee, so I knew that being on my feet all day was going to a chore.
My previous Elbow experience (8 March 2007 @ The Tivoli in Brisbane) was mind blowingly spectacular to say the least. From that experience my hopes and expectations were high for today's gig- and they were well and truly met.  I'm off to the Metro on Wednesday night to see them in their own show as well.
All the songs sounded awesome- finally hearing the songs from Seldom Seen Kid live was nothing short of spectacular.  I had been looking forward to Grace Under Pressure in a festival environment, but no cigar- seems it didn't quite make it to today's setlist.
Grounds for Divorce was unreal with Guy hammering a snare and floor tom during the choruses.  When I saw them at the Tivoli in Brisbane a few years back they had a song where Guy did this…. I'm guessing it was probably Grounds For Divorce.  I remember him saying they'd be playing songs from the new (as yet unreleased) album.  Who knows- too much time has passed and I didn't know as much Elbow back then as I do now.

Razorlight
I thought Razorlight were great.  Unfortunately I was a fair way back for these guys and the wind was picking up so the sound was pretty shite.
Also due to the aforementioned bung knee, I was relegated to sitting quite a way back for the rest of the day.  It was sore as buggery after standing for the Elbow set and I didn't want to run the risk of someone standing on it if I sat too close.
Madness
Not sure what I can say here.  My better half and I decided Madness would be dinner music so went and got some overpriced hotdogs and sat on the 'hill' (small mound of dirt slightly higher than the rest of the field) and watched the oldies go for it.  They were tight- I'll give 'em that, although it wasn't as inspiring as I'd expected it would be.
Kaiser Chiefs
I've never been a massive Kaiser Chiefs fan.  I don't dislike their music by any means, I just think (for me) they seemed to arrive at the same time as a bunch of similar sounding bands (in my mind) like Arctic Monkeys, Bloc Party, Dogs Die in Hot Cars etc etc.
Today they were excellent.
Considering the lineup of today's festival gathered an older audience than usual, it was funny standing at the back with the rest of the 'oldies' looking at 'young persons music'
Snow Patrol
I've been a fan of Gary Lightbody's work since the Reindeer Section.  I think he's one of the greatest songwriters out there (apart from Guy Garvey of course).  Having said that, I just can't get into their new album.  I can't even remember what it's called.  A Hundred million squillion suns or something?
It was great to hear some of the old faves from Final Straw (Chocolate was a highlight) as well as some of the better songs from Eyes Open.  Mr Lightbody also made a point of telling everyone that Elbow were one of the greatest bands around and that everyone should go and buy their albums to make them huge.  I completely agree.
Human League
sucked balls. Seriously.  So fucking terrible I can't write any more about it.
The Killers
One the highlights of this set for me was when Brandon Flowers asked the audience "How is everyone".  The guy behind us promptly said "to be honest mate, I've had enough".  I guess us oldies just don't have the stamina of the young folk these days.
A great show though.  First time I've seen the Killers, and I reckon I'd see them again.  If for no other reason than to see the guitarist and his hair just one more time.

Did you see V Festival @ Centennial Parklands, Sydney (28 March 2009)? Tell us about it