Sia @ Palais Theatre, Melbourne (Tue 1 Feb 2011)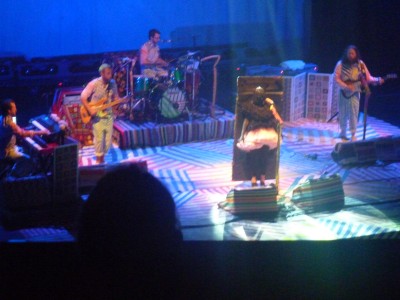 Oh my. What a show. It's been a VERY long time since I've seen a show where the vocals have been so strong, and note perfect throughout. The band were incredible, Sia was incredible, the set was perfect. What more can I say- one the best shows I've seen for a long time.
Last time we saw Sia was at The Meredith Music Festival in 2009. Since then, I've gotten to know more of her stuff, and her latest (and in my opinion, best) album, We Are Born, has been released.
A more hilarious performer I've not seen- Sia really had the crowd in the palm of her hand and engaged more than I've seen before. About halfway through the set, there was a 'workshop' and we all wrote a song together.  Brilliant stuff.
The Fight was the perfect way to open the show (as it was the album).  When the vocals came in, it was evident we were in for a good night.  Cloud in particular was just stunning, and is my favourite song from the new album.
After the show, Sia tweeted thanking everyone for coming.  I tweeted back, saying how good it was AND SHE TWEETED ME BACK.  OK- so this may not seem like a big deal, but when we got home, I had a look at her twitter feed, and she'd replied to every single person who'd tweeted her after the show.  That's pretty cool in my book.
If you've not seen Sia before (and even if you're not a fan), I highly recommend seeing a live show.  Fabulous.
Some videos from the show are below.  Most are of her banter with the crowd rather than the actual songs….
The Fight
Bring Night
Oh Father
Big Girl Little Girl
Cloud
Not sure
The Girl You Lost To Cocaine
The Co-Dependent
Be Good To Me
workshop
You've Changed
crowd banter #1
crowd banter #2
Soon We'll Be Found
The song that wasn't in Seven Pounds
Breathe
Clap Your Hands
Did you see Sia @ Palais Theatre, Melbourne (Tue 1 Feb 2011)? So far, 30 people have commented, why don't you too?